EMPLOYEES


If you can help us out identifying people, please let me know at
steve@stevebriggs.com. If you have photos of Russel employees from other
years, I'd also love to add these to the archive!

1940 Photo courtesy The Grey Roots Archival Collection (item PF123S8F2I26).
6 TIMES (300 DPI) ENLARGE 12 TIMES (600 DPI)
Owen Sound & North Grey Union Public Library collection Photographs and post cards Photographs Russel Bros. [Brothers] Ltd. Owen Sound, July, 1940. File, Item I26 1940 Physical description Photograph/Negative/Slide General note(s) (middle row, 4th from left) Fred Smith; (front row, left to right) 8 Unidentified, Cecil Rollings, 6 Unidentified, Henderson, 3 Unidentified Accession # A2008.028

1947 Photo courtesy ex-Russel employee Phyllis Brown of Owen Sound.
6 TIMES (300 DPI) ENLARGE 12 TIMES (600 DPI)

1952 Photo donated to the Owen Sound Marine & Rail Museum by Donald A. Williams, in memory of his father, former Russel employee George D. Williams.
6 TIMES (300 DPI) ENLARGE 12 TIMES (600 DPI)

1957 Photo courtesy ex-Russel employee Phyllis Brown of Owen Sound.
ENLARGE 12 TIMES (600 DPI)

1962 ENGINE DIVISION Employee Photos courtesy Eleanor Barfoot (daughter of Earl Thompson) and Howard Donovan. Identifications by H. Donovan.
ENLARGE 10 TIMES (600 DPI)

FRONT ROW: W. Burnett, B. Bailes, A.M. Patrick, E. Brown, R. Smith, M. Pearce, P. Beare, B. Guidi, C. Glen,
H. Schack, J. Hunt, G. Wilkinson, P. Wright, R. Tennent, W. Galbraith, A. Jackola, J. Clarke, R. Bishop.
MIDDLE ROW: J. Craig, J. Curtis, H. Winter, J. Archer, Gomer Morrison, Geo. Moore, J. Edgar, Bun White, A. Cameron,
Nic Scopis, G. Schack, Earl Thompson, Vance McMillan, Emile Richard, R. Butt, E. Moulton, P. Gamble, unknown.
BACK ROW: A. Barfoot, F. Koepke, W. (Bill) Wark, Dave Anderson, L. Strutton, T. Couture, Percy Buckland, H. Donovan,
K. Miller, J. McTavish, H. Browne, Jim Henry, G. Bignell, W. Clarke, W. Schack, L. Juniper, G. Wood, Bob Lisk, G. Robertson.

1024 PIXELS WIDE 600 DPI SCAN

Russel-Hipwell Engines Ltd. assembling four engines for two search and rescue craft for the Dept. of Transport.
Emile Richard (left), and Vance McMillan (right).

All listings below are LEFT to RIGHT.
1024 pix ENLARGE 600 DPI

BOATSHOP BACK (5th) Row: C. Wilson, F. Vincent, E. Rutherford, W. Couture, F. Bobzener, W. Legate, W. Holmes, W. Barfoot, D. Frizzell, B. Wark, W. Parker, W. Lester, G. House, E. Kreutzweiser, D. Morrison.
4th Row: E. Krone, A. Cepson, L. Seaman, M. Baird, R. Barfoot, W. Harrison, B. Kerr, Lloyd Smith, J. Dickinson, T. Long, E. Lee, F. Smith, B. Hawke, F. Russel.
3rd Row:A. Richards, W. Hayward, H. Seaman, M. McGill, W. Orr, B. Cottingham, B. Armstrong, D. Harris, J. Barry, R. Cotter, L. Hyndman, Percy England.
2nd Row: W. Cook, J. McComb, H. Walsh, F. Wilkens, L. Foster, F. O'Leary, B. Webber, C. McKinnon, H. Foster, S. Marchello, W. Day, P. Pawlust, M. Campbell, A. Cornett.
Front Row: E. Heft, L. Beckett, G. Nicol, W. Gilberts, N. McMinn, B. Hambly, R. Brown, J. Homeniuk, W. Selman, H. Baird, W. O'Leary, S. Kuchma, H. Tuohy.

1024 pix ENLARGE 600 DPI

FITTERS

E. Teschke, R. Sanderson, L. Jorgensen, W. Burnett, E. Oliver.

1024 pix ENLARGE 600 DPI

GENERATOR SHOP

STANDING: L. Richards, P. Buckland, L. Galbraith, H. Brown, S. McKim, C. Ramsay, J. Wardell, W. Walker.
KNEELING: G. Moore, G. Fisher, C. Williton, J. McTavish, M. MacMillan, R. McComb.

1024 pix ENLARGE 600 DPI

MACHINE SHOP

FRONT ROW: R. Clark, E. Clements, L. Fair, N. Granfors, A. Clements, Lyman Chatwell, T. Meloche, J. Palmer, J. Aiken.
MIDDLE ROW: I. Fairweather, R. Harrison, M. Huston, H. Wilson, C. McRae, J. Hart, C. England, R. Agnew.
BACK ROW: R. McBride, S. Wilson, A. Monroe, J. McClure, D. Anderson, G. Fenn.

1024 pix ENLARGE 600 DPI

MANAGEMENT COUNCIL

STANDING: H.H. Warkentin, L.R.Cornett, C.A. Rollings, E.M.Cordrey, D.M.Blanchard.
SEATED: L.W. Childs, N.E. Hipwell, N.H. Robertson.

1024 pix ENLARGE 600 DPI

MONTREAL STAFF

STANDING: Guy Marcel, J.P. Claude, Jim Jeffries, Tom Russel, Bill Rankin.
SEATED: Jessie Jeffries, K.F. Klassen, Emily Green.

1024 pix ENLARGE 600 DPI

OFFICE STAFF

SEATED rear: D. Dunn, E. Cordrey, K. Trotter, S. Cossey, C. Glen.
STANDING: N. Robertson, R. Russel, N. Hipwell, R. Childs, H. Warkentin, T. McReavy, B. MacLeod, H. Cole, A Kiff, W. Shears, M. Blanchard, B. MacMillan.
SEATED front: S. Beatty, J. Rennie, L. Featherston, M. Noble, J. Shears, C. Sacerty.

1024 pix ENLARGE 600 DPI

OFFICE STAFF

SEATED: P. Neath, M. Johnson.
STANDING: L. Cornett, D. Seaman, C. Furness, C. Rollings, M. Cassidy, B. White, G. Paterson.

1024 pix ENLARGE 600 DPI

PAINTERS & CLEANERS

KNEELING: A. Rouse, E. Bone, R. Robinson, E. Moulton.
STANDING: R. Bartley, W. Hutton, C. Young, J. Blackshaw, W. Duncan, M. Brett, C. Summers, A. Fraser, M. Baker, A. Best, A. Hutson.

1024 pix ENLARGE 600 DPI

STOCK KEEPERS

KNEELING: W. Puckett, K. Haswell, K. Gibson.
STANDING: F. Koepke, H. Hilts, W. Cole, A. Cameron, M. Duncan.

1024 pix ENLARGE 600 DPI

WATCHMEN

J. Taylor, E. Dell.
| | | |
| --- | --- | --- |
| | | What Is Specialized Service? This Russel-Hipwell brochure gives short biographies of employees in Owen Sound, as well as the Port Arthur, Montreal and Halifax branches. Eric M. Cordrey, Larry Bent, George Moore, Percy Buckland, George Fisher, Ralph Coughran, Bob Douglas, Hilton Westbrook, Lloyd Galbraith, Eric G. Cordrey, Maurice Cassidy, Don Gerhardt, Mac McMillan, Cliff Poulin, Jack McTavish, Dick McComb, Sam McKim, Harry Hilts, Rene Kartner, Hugh Mackinlay, Vernon Kehler, Cliff Ramsay, Bill Rankin, Len Richards, Jack Wardell, Tom Russel, Fred Russel, Bun White, Frank Wilkins, Roy Sanderson, Cliff Williton, Bob Taylor, Cliff Wilson. |
Employee Anecdotes:

Ed Krohn (92), Jan. 26th, 2006
Howard Donovan (84), Sept. 19th, 2006.

Obituaries:

Harry (Henry) Warkentin Sept. 29, 1995
Norman H. Robertson Dec. 15th, 1994
Norval Hipwell Mar. 17th, 1987

Employees & Hourly Rates 1941

| | | |
| --- | --- | --- |
| Feb. 22, 1941 | July 8, 1941 | Oct. 23, 1941 |

Tax Return

Apr. 30, 1946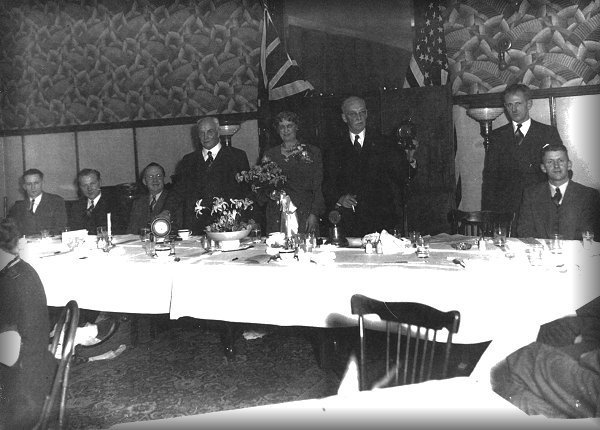 ENLARGE TO 1024 PIXELS
ENLARGE TO 600 DPI SCAN
40th ANNIVERSARY

At this 1947 event, Colin & Jardine Russel were presented with commemorative clocks as seen above. Colin's now belongs to Tom Russel and is pictured at left (July 2007). Inscription reads:

PRESENTED TO
COLIN RUSSEL
IN COMMEMORATION
40TH ANNIVERSARY
RUSSEL BROTHERS
1907 STAFF & FOREMEN 1947
50th Anniversary Banquet, Paterson House, Owen Sound, 1957.

Company officials and employees of Russel-Hipwell Engines Ltd. celebrated the company's 50th anniversary Saturday night at a banquet held at the Paterson House. Left to right at the banquet table are seen Wm. O'Leary, Bruce MacLeod, Fred H. Russel, Lorne Cornett, Albert Cottingham, Harry Warkentin, Colin Glen, G.D. Fleming, John Homeniuk, Cecil Rollings, Albert Clemts, Colin Russel, Norval Hipwell, and foreground Thomas Russel. Also attending the banquet celebrating the 50th anniversary of Russel-Hipwell Engines Saturday night were, left to right, Adam Turner, Eric Cordrey, Wm. Osadzuk, John Klassen, Louis Jorgensen, Wm. Telford, Nestor Granfors, Norman Robertson, Eric Oliver and Murray Blanchard. - Sun Times Staff Photo.
Photo courtesy George Poirier of the "I grew up in Iroquois Falls" facebook group. George comments
(March 2018): "Either at Twin Falls or Low Bush. (Abitibi Woodlands)."

Company Picnic, Harrison Park, Owen Sound. Del Seaman as the clown to the left. c. 1950.
Ray McCallum was the clown facing away, Howard Donovan third from left, and Norm Walker is the fourth runner from the left. Del Seaman Collection.

ENLARGE TO 600 DPI SCAN

For more Russel exhibits visit Owen Sound Marine & Rail Museum 1165 1st Ave West, Owen Sound, ON N4K 4K8
(519) 371-3333 http://marinerail.com