Ed Krohn
Russel Employee 1943-1982, interviewed by Steve Briggs Jan. 26th 2006
Ed Krohn was born in 1913, and originally worked in a sawmill as a fireman, north of Lion's Head. His duties included getting the fires stoked to run the steam engine, for which he'd have to commence at 4:30 am in order to have the machinery ready for the 7:00 am regular shift start. He'd work throughout the day and after supper, go and make sure there was enough water in the boiler to make it overnight. His pay for this was $1.50 a day, but food and board was included.
He joined Russel Brothers in Owen Sound during WWII, in 1943, and was employed there from then until the company folded in 1982. He still wears the gold watch he got from the company on his retirement. During the war, he worked 10 hour shifts, mostly with no breaks, as the plant was running on a 24 hour basis. He recalls his starting wage was much less than $1 per hour, probably 57 cents. By the time he retired, he was making $10 per hour. Ed worked as a fitter, mostly in mechanics, making throttles and gears and engine parts, but he also was very adaptable and able to work in any area of the operations as required. Although the boat building business was somewhat non-steady, and the Russel workforce (roughly 250 people) fluctuated a fair bit as demand required, Ed was never laid off. He does recall being forced to strike by the plant union 2 or 3 times, when he'd have to go find work elsewhere, as strike pay was barely subsistence level. But he'd always return to Russel Brothers whenever the plant resumed work. Ed wasn't fond of the union, and cites union demands as the main reason the company was forced to close in 1982, having become unprofitable. He recalls Percy England was union leader for many years, later to become mayor of Owen Sound.
He recalls working on many boats over the years, especially 40 foot tugs. His favourite was the Atomic, (originally built as an icebreaker) and he remembers the plant workers avidly following her victories in the International Tug Races in the St. Mary's River. He also recalls several large boats and barges, such as the Ville Marie and Montmagny, and the barge Malden, which were too big to be fabricated indoors, so the work force had to endure outdoor weather exposure during their construction. He also remembered working on the fire boat and a Toronto Ferry.
I asked him about the traveling engine specialist mentioned in the Cordrey history, and Ed is pretty sure it was Jack Wardell. Ed fondly recalls Dick Warkentin (pronounced "wark-en-teen") and even though he was never in management, was able to talk to Mr. Warkentin as a friend. He also recalls Elgin Walter as part of the management team, saying he was extremely smart and very able as a machinist, designer and manager.
Ed related a couple of amusing union related stories. There was a plant buzzer that sounded designated break times, for which the union had apparently fought long and hard. Ed, being somewhat industrially deaf and a hard worker, went right on welding through the break, for which he was upbraided soundly by his boss. Also, Russels was in the habit of giving their workers Christmas turkeys, and for some reason the union decided to complain about the practice, lobbying instead for chickens! Eventually, someone complained about that too, after which the company gave out cash bonuses only. Over the years, the union managed to reduce the work day hours from 10 to 9 and then 8, and they were lobbying to reduce this even further. Ed recalls Mr. Warkentin calling him in as an old and trusted hand and asking him what he thought of a less than 8 hour work day. Needless to say, Ed laughed, and it wasn't carried.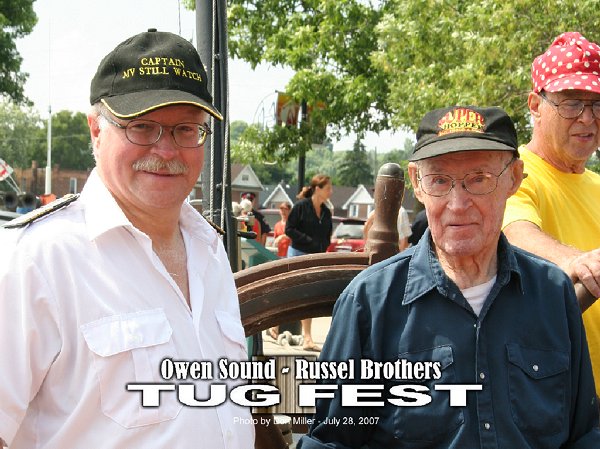 Ed with Still Watch captain Tom Marshall at the Owen Sound - Russel Brothers Tugfest, July 28, 2007.
1024 PIXELS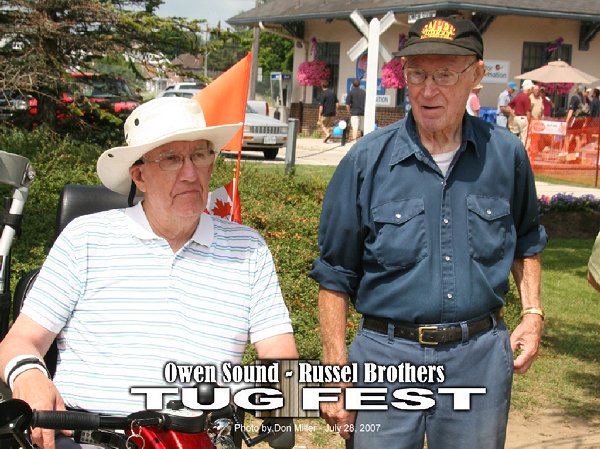 Ted Eldred (seated) and Ed Krohn at the Owen Sound - Russel Brothers Tugfest, July 28, 2007.
1024 PIXELS