Russel Brothers Limited OWEN SOUND, ONTARIO Steelcraft Boat Builders
Kayvee
Design #270 - Canadian List of Shipping 1956: Kay Vee [C.177508] registered at Owen Sound; built at Owen Sound in 1946. 47'4 x 12'8 x 4'; 22 g.t.; 7 n.t.; 300 hp. Owned by The KVP Co. Ltd., Espanola, Ontario. Canadian List of Shipping 1970: Steel tug Kay Vee [C.177508] registered at Ottawa. Built at Owen Sound in 1946. 47'; 22 g.t. Transport Canada List 2003: Owned by ICO Inc., Portage Du Fort, Québec. RBF Notes: Owned by Gordon Black of "Log's End", Bristol Mines, QC 2004. For sale for $32,000. Hull 548. Steve Briggs notes (May 2007): Kayvee was purchased by Terry Scott of Box 7284 Sandwich Station, Windsor, Ontario, Canada N9C 3Z1 in 2006. After refurbishing, she's again afloat in Amherstburg, Ont.
Terry Scott is currently (2006) restoring Kayvee and notes: "The name Kayvee is short for her original owners name which was Kalamazoo Vegetable Parchment Company of Espanola, 1946, the name shortened to produce "Kayvee" when the vessel was ordered. The Kayvee ( proper spelling of Kayvee is one word as it appears on the registration paperwork, it's even shown wrong on the bows as 2 words Kay Vee when in reality is only one word "Kayvee")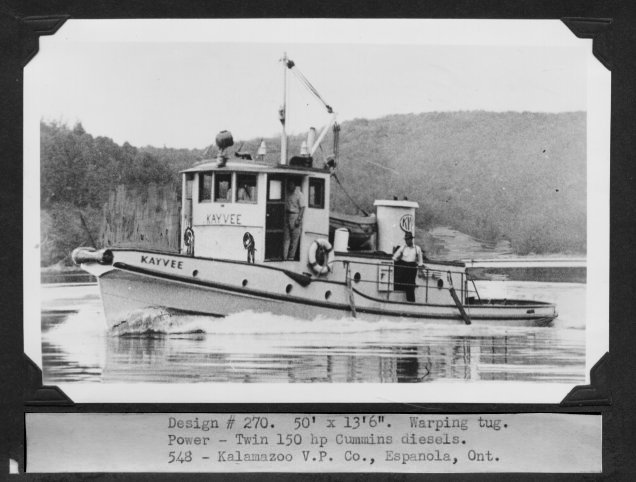 Photo from Company Brochure Circular 46A, Steelcraft Warping Tugs
Kayvee on her last run on November 4, 1990.
She was the last tugboat used by ICO
(Upper Ottawa Valley Improvement Company).

Kayvee in 1983
under ICO colours.
Lac Du Chats, QC
Bob Parr Collection.
Steve Briggs notes (May 2017): "Robert A. Cotton sent me a couple of undated photos of Kayvee taken by Ted Scarrow (now deceased) of Owen Sound. No location is noted. Last I heard she was owned by Terry Scott of Amherstburg (2007)."
| | |
| --- | --- |
| | |
Alert & Kayvee, c. 1997 while owned by Logs End, Inc. Communique from Logs End, Feb. 14th, 2007: The Kayvee was sold last summer, (NB - Kayvee was sold to and refurbished by Terry Scott in 2006. She's now in the water again at Ahmerstburg, Ont.) the Alert is still located at the Logs End Inc mill, in Bristol Mines, Québec. We're a company that pulls logs from the bottom of the Ottawa River that sank during river drives. The logs are then turned into flooring. From the page: http://www.logsend.com/boats.php In 1885, the ICO (Upper Ottawa Valley Improvement Company) was formed to sort and deliver logs, cut in the upper Ottawa Valley, to their owners' mills further downstream. With the last log drive taking place on the Ottawa River in early 1990, the ICO fleet was retired from service and sent to dry dock. In 1997, Logs End purchased five of the old boats, with the intention of restoring them to their original working condition, and sending them out yet again, to salvage logs that their forbearers had lost during log drives....The Kay Vee and the Alert have been relocated from Chenaux, Ontario to Bristol Mines, where their restoration is underway. Once fully refitted, it is out intent to use these two boats for guided tours of the Ottawa River waterways.

Alert (left) and Kayvee (right) - Bristol Mines QC, Apr. 6th, 2004.

For sale (Bristol Mines, QC Aug 20, 2004).

Restoring Kayvee

Photos by owner Terry Scott, Windsor, Ontario, 2006.

Kayvee photos by Jan van der Doe, Sunday Oct. 15th, 2006, in La salle, ON.

Kayvee back in the water. Photos by Dirk van der Doe
Oct. 2006, La salle, ON.

Kayvee at the Bob-Lo Ferry Dock in Amherstburg, used for rebreaking ice between Bob-Lo and Amherstburg.
Feb. 2007 (or '08). Photo credit: Al Jackson. Courtesy Marsh Historical Collection, Amherstburg, ON.

Kayvee in Kingston. Terry Scott Collection.

Detroit Tugboat Race, July 2007

Feb. 29, 2008: Terry Scott sends 3 photos of his Kayvee. Click to enlarge.

For more Russel exhibits visit Owen Sound Marine & Rail Museum 1165 1st Ave West, Owen Sound, ON N4K 4K8
(519) 371-3333

http://marinerail.com