Famous Russel Boats
| | |
| --- | --- |
| | The $1 Bill Connection Two Russel boats were on the back of the last Canadian one dollar bill, 3.4 BILLION were printed from 1974 to 1989! Ancaster is now on display in Owen Sound. Did you know it sank more than once? Missinaibi is in the Canadian Museum of Civilization in Hull, Québec. |
| | |
| --- | --- |
| | The Maid Of The Mist Russels made two Maids for the Niagara Falls gorge, in '55 and '56, based on an Arctic research vessel design. The first one is now based in Parry Sound, Ont. and runs dinner cruises and day excursions. The second Maid was sold and destined for service in the Amazon. |
| | |
| --- | --- |
| | The ATOMIC (1946) was designed as an ice-breaker. Twice winner ('50 & '51) of the International tug race, she could break up to 30" of ice, keeping shipping channels open for coal carriers between Toledo and Detroit. Still in service 2007 in Toronto. |
| | |
| --- | --- |
| | The FIRST and the LAST Owen Sound Russel Boats Most likely Bluefin was the first Owen Sound built Russel, launched in the spring of 1938 at Lake Nipigon. The last boat built was the small Beaver's Helper in 1974, a sluicer for herding logs for Irving Pulp & Paper Co. in St. John, NB. |
| | |
| --- | --- |
| | The Wm Lyon Mackenzie was built in 1964 as Toronto's only fireboat, named after the "Firebrand" leader of the 1837 Rebellion, and first Mayor of Toronto. Still in service in 2007! She is 81' long, 102 g.t.; capable of breaking 18" of Ice. Crew of 22, 10 sailors and 12 firemen who work on four shifts. |
The Dollar Bill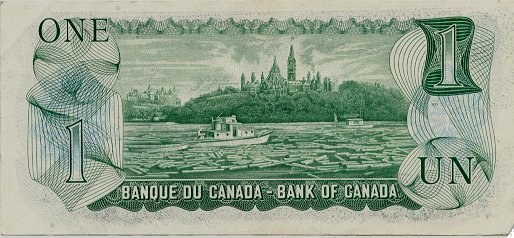 About 3.4 billion one-dollar bills were printed between June 3, 1974
and June 30, 1989, when the paper dollar was discontinued.

The last Canadian Dollar bill featured the Ancaster (smaller) and the Missinaibi (larger) as captured in a black & white 1963 photograph by Malak Karsh entitled Paper & Politics. The lumber tugs are re-assembling a broken log boom on the Ottawa river just below the Parliament Buildings.

1024 pix ENLARGE 300DPI
These two little tugboats would probably have passed into oblivion and been sent to the scrapyard like so many others, had it not become the illustration on the back of the Canadian one-dollar bill. In 1963, celebrated Ottawa photographer Malak (Malak Karsh, younger brother of Yousuf) took a picture of the Ancaster and the Missinaibi in their natural element: navigating the log-filled Ottawa River against the background of the Parliament Buildings. A log boom had broken upstream and the two tugs were cleaning up the spill. This photograph was to play a major role in deciding the tugboat's fate when the government decided to change the design of Canadian paper currency in a move to tighten security and prevent counterfeiting. The new notes included security innovations such as multicolor printing, along with familiar design elements from the previous bills to facilitate public recognition.
It was thus decided to use panoramas once again of representative regions of the country, based on photographs from various sources, to create a single landscape. Each scene had to be suitable for engraving and major print-runs. Modifications were thus made to the original photographs, and none of the illustrations which appeared on our paper currency was an exact replica of the original photo.
Malak's photo shows a man with a pike on the stern of the Missinaibi. No man is visible on the dollar bill -- a creative liberty taken by designers in their adaptation of the original shots. The engraving on the back of the one-dollar bill featuring the Missinaibi is the work of Gordon Yorke of the British American Bank Note Company. The overall design of the one-dollar bill is the result of the joint efforts of the Bank of Canada, the Canadian Bank Note Company, British American Bank Note, and Thomas De La Rue and Co. Ltd. Reprints of the photo can be obtained from the Bank of Canada's Currency Museum.
| | |
| --- | --- |
| | The engraving on the back of the one-dollar bill featuring the Missinaibi is the work of Gordon Yorke of the British American Bank Note Company. The overall design of the one-dollar bill is the result of the joint efforts of the Bank of Canada, the Canadian Bank Note Company, British American Bank Note, and Thomas De La Rue and Co. Ltd. See THE ART AND DESIGN OF CANADIAN BANK NOTES https://www.bankofcanada.ca/wp-content/uploads/2010/07/promo_art.pdf |
For more Russel exhibits visit Owen Sound Marine & Rail Museum 1165 1st Ave West, Owen Sound, ON N4K 4K8
(519) 371-3333

http://marinerail.com