Russel Brothers Limited OWEN SOUND, ONTARIO Steelcraft Boat Builders
Annie Mac / Bluefin
Vessel Data Sheet: compiled by Peter Englebert: Steel work boat/research [38E5246] Bluefin was built by Russel Bros. at Owen Sound in 1937-38. Launched in the spring of 1938 at Lake Nipigon. 39' 5 x 10'; Approx. 26 tons deadweight. Powered by GM 453. Converted from turtle back fish tug to open deck, new wheelhouse; re-wired, new fuel tanks & c. 1990 to 1995 at Deseronto, Ontario. Owned by 1] Angus McLeod Jr. 1938 – 1958 (approx.); 2] Harold Dampier 1958 – early 1980's – vessel moved to Lake Superior. 3] Randy Dampier early to mid-1980' Government of Ontario, Ministry of Culture and Communications, Ottawa. – mid 1980's to present. Note: "Strain gauge on last crane that lifted her showed 26 tons. From the dates Gerry has she must have been one of the first boats off the line after they moved to Owen Sound. Striking resemblance to "Ville" class tugs built for CDN Navy during WW II. a] Annie Mac.
Bluefin March 1938 - original Harry Warkentin design for 40 foot diesel tug.
Bluefin could well have been the first Owen Sound built Russel vessel.
This vessel was definitely the forerunner of the Navy Ville class of tugs.
It was a ready-to-go design that did not require R&D for the requirements of the RCN.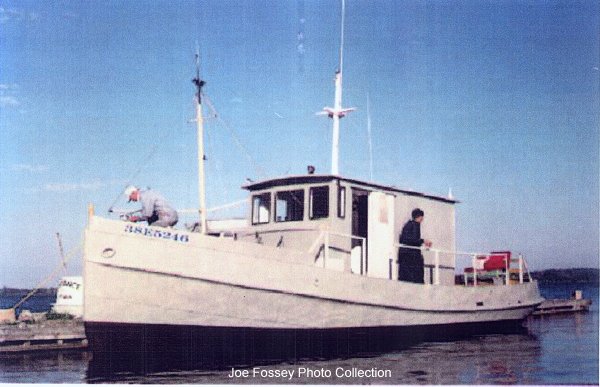 The photo shows original owners Angus (Buddy) McLeod (who worked for his father in Nipigon as a commercial fisherman), and his wife and fishing partner Edna. Edna referred to the wheelhouse as a "matchbox stuck onto the deck".
---
Joe Fossey notes: Peter Englebert of Ottawa discovered the Bluefin in Northern Ontario and had it adapted for use by the Marine Heritage Conservation Program of Canada. Peter was the captain of Bluefin for many years of Marine research in Ontario. Bluefin is not a registered vessel and belongs to the Province of Ontario. It was drydocked in Goderich Harbour in 2004.

She was delivered by rail from Owen Sound to Nipigon in March 1938 to Mr. McLeod, a commercial fisherman on Lake Nipigon. This information was related to Peter Englebert years ago by Edna McLeod, wife of the original owner. I have letters on file from Peter Engelbert and other photos of the wheelhouse changes, etc. After sale by Mr. McLeod, the vessel was moved to from Lake Nipigon to Lake Superior where Peter Engelbert purchased and modified it for the Ontario research program.
4 page article on Bluefin from Save Ontario Shipwrecks, written by
former long time skipper Peter Engelbert in 1988.
Kristjan VanWissen Collection.

Bluefin Nov. 7th, 1995 at Erieau, ON.
Gerry Ouderkirk Collection.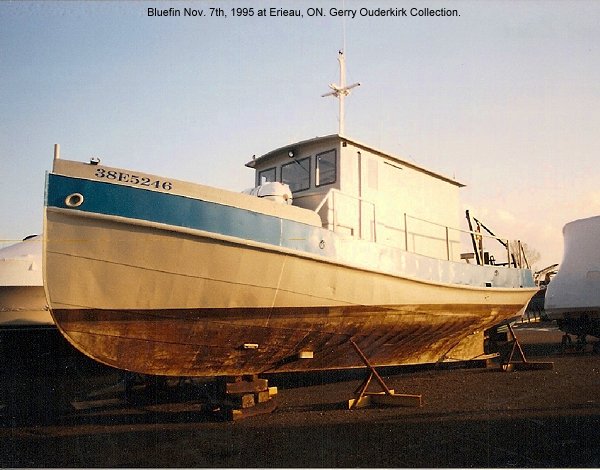 Jeff Cameron writes: "The former fishing tug Bluefin is seen in this photograph moored at St. Catharines Marina during the evening of June 17th, 1998. She had pulled into the Marina to spend the night before heading up the canal on the 18th. This 39'10" tug was built in 1937 by Russel Bros. at Owen Sound, Ontario. Her construction had been commissioned by a man named Angus (Buddy) McLeod and upon her completion he put her to work fishing out of Nipigon. This was a trade Bluefin would continue in for many years in fact, her current owner records that her last fishing year was 1987. Since 1987 Bluefin has been restored and modified with a new wheelhouse and she has made several trips through the Welland Canal in recent years looking as she does in these photos. Ironically, she has outlived her official port of registry. Port Arthur is no longer referred to as such but is known now as Thunder Bay instead. Click to enlarge.
Source page: http://www.wellandcanal.ca/shiparc/tugs/bluefin/bluefin.htm
| | |
| --- | --- |
| | |
Early 2000's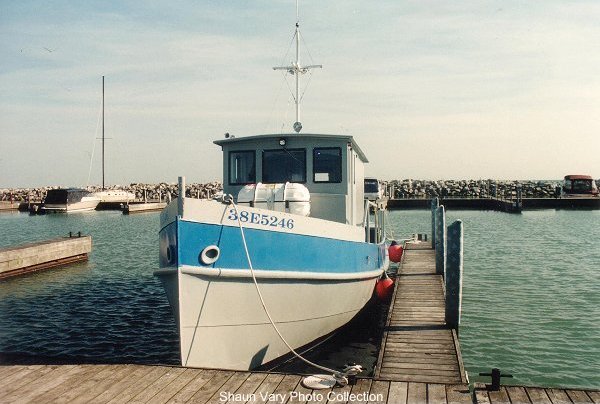 Photos by Steve Briggs June 29, 2016. Owen Sound Marina. Click to enlarge.

Youtube video of Bluefin in Owen Sound Marina published on 14 Oct 2016.
(courtesy Steve Briggs)


Owen Sound Sun Times Article Sun. Oct. 16, 2016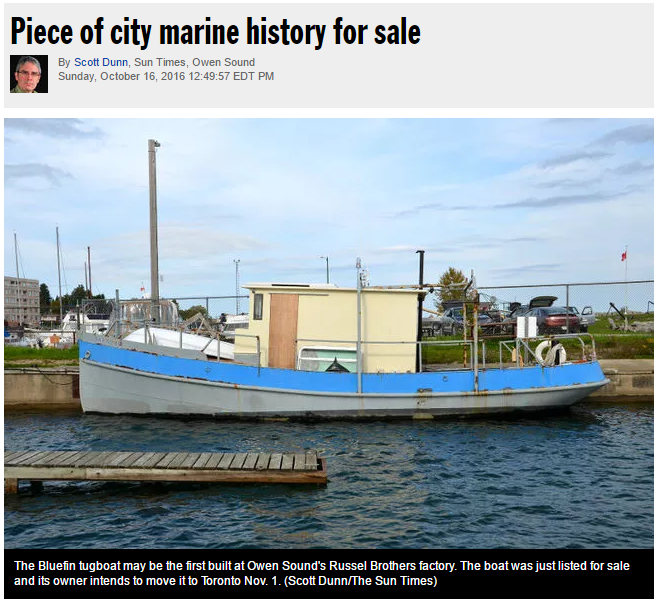 OWEN SOUND - Possibly the first Russel Brothers tugboat built in Owen Sound has come home and is floating at the Owen Sound marina, an incomplete restoration project which is for sale on Kijiji. The Bluefin, built in 1937-38 at the Russel Brothers shipyard, was put in the water this spring. But due to personal circumstances its owner, Kristjan van Wissen, a recent marine engineering graduate at Georgian College, just listed the 40-foot tug for sale on Kijiji for $35,000. "Bluefin could well have been the first Owen Sound built Russel vessel," according to information found at russelbrothers.ca, a website established by local tugboat enthusiast Steve Briggs. "This vessel was definitely the forerunner of the Navy Ville class of tugs," built for Second World War service.

"If it sells up there, great. I planned on bringing it to Toronto Nov. 1," van Wissen said by phone Saturday. "And if it doesn't sell, it's still a great boat and I'll make some use of it in the future," the 37-year-old said. "There's been some interest in the add already." Wissen, who used to deliver boats to their owners back and forth across the Atlantic, didn't know where Owen Sound was when he signed up for the Georgian College program. He knew nothing about Russel Brothers boats and brought his boat it to Owen Sound not knowing it was made here, he said. It was simply a convenient place to work on while going to school here, he said. He said he and his wife, Eliza, the boat's legal owner who's also an avid sailor, have taken the Bluefin across the harbour to the old Russel Brothers factory site for picnics on that overgrown, vacant east harbourfront site.

And Wissen has been overwhelmed with the interest shown in the vessel since its been here. People have come up to him to say a family member who worked at Russel's may have even helped built that boat. "I was really surprised that the boat sat in Goderich on land for 10 years. No one even mentioned it. And then I bring it to Owen Sound and I've been told a hundred times that I should restore it to its original condition or I should use it for charter trips outside the rail museum," he said. "One city councillor said he would support me if I wanted to restore it and I could have a berth outside the city rail museum and do trips on it and stuff. And I said, well, if the boat's so important, how come nobody else looked into it in the last 10 years?"

The Ontario government used it last, as a research vessel to hunt for shipwrecks. It was stripped and sat rusting on land for 10 years before it was sold to someone who then sold it to van Wissen last fall. Most of its working life it was a commercial fishing boat in Northern Ontario. "I could tell right away that it was an incredibly well built vessel. It was far better built and far stronger than any other boat you can get, recreational vessel of that size," van Wissen said. The engine seemed in great shape, lots of wiring had been replaced and "so even though it was all rusty and covered in wasps nests and obviously left out in the elements for 10 years, I could see that it was actually a very good boat," he said. This boat was to be turned into a recreational vessel and van Wissen started doing so with some of his classmate friends. But a personal commitment arose which limits his free time, he said, which led to the decision to sell.

Bluefin was named "Annie Mac" at the shipyard before it was renamed Bluefin by its first owner, a commercial fisherman named Angus (Buddy) McLeod, according to a 1988 article about the vessel which van Wissen shared for this story. Based on interviews with Buddy's "wife and fishing partner," Edna, the article said the vessel was delivered by rail from Owen Sound to Nipagon in March 1938 and was used as a fishing boat for years, modified with a "turtleback" to cover the deck. That deck cover has since been removed. In the late 1960s the Bluefin was sold to his friend Harold Dampier who moved the boat to Lake Superior. By 1980 his brother, Randie Dampier, fished with it in Lake Superior. "By this time, Bluefin had established her reputation as a tough, economical little sea boat," the article said. "But that was not the only reputation that she had acquired. With her old-style, narrow, deep hull and fine lines she tended to roll a bit. Harold once told me, 'she'll never drown you but she'll beat your brains out.'" The Ontario Ministry of Natural Resources bought the Bluefin in 1985 under its Fisheries Buyout Program. The vessel, next owned by the Ontario Ministry of Culture and Communications, was then used to hunt shipwrecks as a research vessel, captained by Peter Engelbert, who wrote the 1988 in the marine heritage newsletter, Save Our Shipwrecks.
Info from kijiji ad. Photos by Kristjan van Wissen.
Listed Oct. 14, 2016
Price $35,000.00 38 foot Russel Tug, World War 2 Ville class prototype Year 1937 Colour Grey
ENGINE Detroit Diesel 4-53N runs well and used regularly this last year. The only fault is a water drip on the Jabsco water pump seal. Has 100Amp Delco Type 27Si alternator. Exhaust piping is all new, vessel is pre-1960 so no muffler required, but you could fit one easily if you desired.
HULL Hull is in very excellent shape. You will not ever find a Russel tug with a hull this clean, unless it had never been used. This tug was originally used for fishing, so the hull is not damaged like the logger boats or ones used for construction type work. Hull is about 3/16 or a bit thicker, frames are 1/4 or maybe a bit thicker.(I didn't measure exactly) 3" and on 16" centre. Construction has no water traps in the hull, so water runs all the way aft to bilge sump, which is why there is virtually no deterioration of the hull.The cabin has good headroom, far more than other Russel tugs. Cabin bilges have two coats of coal tar epoxy, cabin hull has two coats primer, two coats of trem clad, then insulated with Roxul and 9mm vapour barrier. Cabin holds heat well in winter, and keeps cool in the summer. Cabin wood work is solid Ash, and boat comes with 60ish 6' clear 2x4 (worth quite a bit if you bought from lumberyard). The decks are solid but do need to be cleaned/painted. Pilot house is 1/2" marine ply on 2x4, insulated with Roxul and panelled inside with 1/2 normal ply. It is solid.
ELECTRIC and OTHER Two 305 watt Canadian Solar poly panels (610 watt) Morningstar MPPT 40 Amp charge regulator (At midday, 40amp 12volt charging) Pyle 3kw inverter, yes 3000 watts with a 7000 watt surge, I run table saw, air conditioner, grinders etc...through the inverter. Inverter is also a 12V (14.4) charger, I think about 100 amp. one 8D house battery, definitely a few years old but in good condition and works well. Interstate Group 31 Start Battery, 2015, always starts the engine 110 volt mini fridge freezer LG 8000 BTU portable air conditioner, runs through inverter powered by battery and solar midday, or leave on when engine running as you are underway 12V Marine VHF and long Shakespeare antenna, and spare antenna 50 or so lb CQR-type anchor, and medium and small danforth anchors. Chain/line combination. Engine and battery wiring was replaced Aug/2016 to professional electrical standard. The boat would sleep 4 adults, V berth forward is finished, and convertible double in pilot house is almost finished. Galley is down, sink, tap, counters, needs shelving still. Comes with all required safety flares, lifejackets, etc...Coast Guard Compliant. Interior is partly finished.It's a great boat, and I would rather pass the vessel on to an interested person who feels they can.
Note: No Stove, Does have a portable Weber BBQ No Radar No Chart plotter No depth sounder, though a Foruno transducer is in the hull Head is not installed but holding tank and Jabsco head are present 50 gallon tank for freshwater, but not plumbed No Windlass If you are looking for a true tug/trawler with historical significance, this is it.
For more Russel exhibits visit Owen Sound Marine & Rail Museum 1165 1st Ave West, Owen Sound, ON N4K 4K8
(519) 371-3333

http://marinerail.com