Russel Brothers Limited OWEN SOUND, ONTARIO Steelcraft Boat Builders
| | | |
| --- | --- | --- |
| | | |
Quinte

Design #149 - Canadian List of Shipping 1956: The Quinte [C.111970] registered at Picton; built at Owen Sound in 1939. 64' x 31' x 7'; 75 g.t.; 60 n.t.; 170 hp. Owned by The Minister of Highways, Toronto. Canadian List of Shipping 1970: 12 car Steel ferry boat The Quinte [C.111970] registered at Picton, Ontario. Built at Owen Sound in 1939. 64'; 75 g.t. Canadian List of Ships 1997: Owned by Rodney Monague, Christian Island, Ontario. Transport Canada List 2003: Owned by Rodney and Lionel Monague, Christian Island, Ontario. The Midland Free Press, Friday, December 27, 1996, p. 1: Barge takes a swim. See clipping file for details.

Gerry Ouderkirk has written an extensive illustrated article
on the Quinte for The Scanner Vol. XXXVIII No. 7 May 2006.

GAO notes: Transport Canada closed the register on November 24, 2004. I have e-mailed Jamie Hunter and Vern Sweeting in Midland-Penetang to look into what actually happened to it after it sank at the dock in 1996 at Midland. It was subsequently hauled out (cool pic in the Midland Free Press on December 27, 1996). Capt. Hugh Malovey, who was residing in Midland at the time, told me it had been cut down to a flat deck barge in 1998. I believe I photographed it on the dock in 1997 with the wheelhouse still attached. It was apparently used to transport cargo to Christian Island.
Owen Sound Daily Sun Times, Sat. Jan. 13th, 1940: "...one of their best products of the year was the manufacture of a steel ferry boat, 70 feet long and 32 feet beam, for the Ontario Department of Highways and placed into service on the Bay of Quinte between Adolphustown and Glenora, the latter being a picturesque spot on the Prince Edward county side of the bay. This boat will carry 15 motor cars at one time and makes the trip between the two points in about 6 minutes, against 10 minutes by the old ferry. The Department have expressed themselves as as being highly pleased with the performance of this ferry, which greatly facilitates the handling of heavy tourist traffic. The ferry was delivered at the end of June and cost about $16,000."
In 1936, the Ontario Department of Highways assumed responsibility for Highway 33 and the ferry became a free service: M/V QUINTE entered service 1 July 1939 (replaced in the spring of 1974 by the St. Joseph Islander renamed Glenora, a fifteen-car ferry, built 1953 and modified 1974 in dry dock in Kingston. The Islander was formerly in use near Sault Ste. Marie.) (source: http://www.aandc.org/research/glenora_quinte_ferries.html)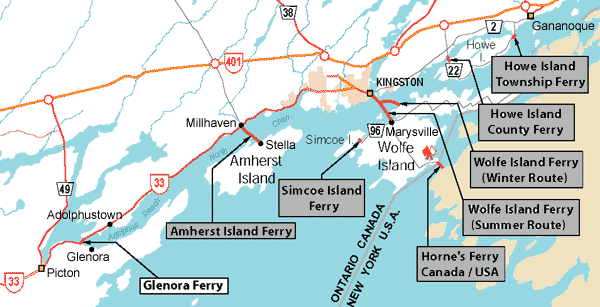 Historical Collections of the Great Lakes - Great Lakes Vessels Online Index
1960's: Crossing between Glenora and Adolphustown, Ont.
Photo source http://ul.bgsu.edu/cgi-bin/xvsl2.cgi Item 006996

For sale on kijiji (March 2018) $30,000.00 31.5 wide, 68.0 overall length, 20x20 wood platform. Not sectional. Draws 4-5 feet. Has spuds. Penetanguishene, ON L9M2G2. Owen Monague comments (April 6, 2018): "Couple of summers ago when our car ferry was out of service, our chief and council (Christian Island) explored several options. This barge was one of them, then they realized it was the old Quinte. They didn't want to go backwards."
Source: https://www.kijiji.ca/v-other-heavy-equipment/barrie/barge/1163733949

For more Russel exhibits visit Owen Sound Marine & Rail Museum 1165 1st Ave West, Owen Sound, ON N4K 4K8
(519) 371-3333

http://marinerail.com