Russel Brothers Limited OWEN SOUND, ONTARIO Steelcraft Boat Builders
| | | |
| --- | --- | --- |
| | | |
Bonaventure II / Interlude II
Papillon
Hull 1234. Canadian List of Shipping 1970: Aluminum yacht [C.325828] registered at Toronto. Built at Owen Sound in 1966. 49'; 30 g.t. Renamed b] Interlude II. GAO Notes: Name changed again before 1997. Transport Canada List 2003: No Longer Registered in Canada. This is the larger of two aluminum sailboats Russel Brothers constructed in the '60's, the other being The Merry Song.
SB notes Aug. 23rd, 2006: David Low (ex head draftsman and designer at Russel Brothers) commented that of the two racing yawls made, Bonaventure II was quite a bit bigger than the Merry Song. Both boats were very challenging and necessitated many new fabrication techniques. The all aluminum construction made for a lot of variation in the boat measurements due to thermal expansion. The outer hull had to be "glass smooth" and there was a lot of trial and error in achieving this. Lots of body filler was employed. Merry Song was built for M. J. Boyle of Chicago. Bonaventure II was built originally for W. Bernard Herman of Toronto, who was the Chairman of City Parking, later Citicom which became a real estate company which he guided until he passed away. He was a competitive sailor and noted philanthropist. For more on Mr. Herman, I've included some notes at the bottom of this page, sent by his friend Dan Erlich (July 4th, 2012).
A yawl (from Dutch Jol) is a two-masted sailing craft similar to a sloop or cutter but with an additional mizzen mast well aft of the main mast, often right on the transom. A small mizzen sail is hoisted on the mizzen mast. In the 1950s and 60s yawls were developed for ocean racing to take advantage the handicapping rule that did not penalize them for flying a mizzen staysail, which on long ocean races, often down wind, were a great advantage.
Images and info below from http://yachtworld.com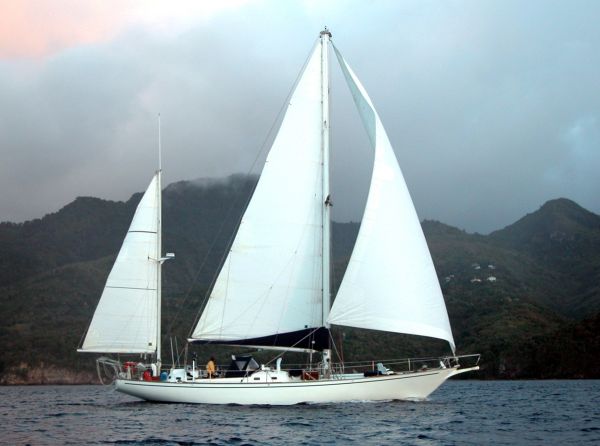 60' Russel Brothers Custom Auxiliary Yawl
Year: 1966
Current Price: US$ 275,000
Located in Easton, MD. USCG Doc. No. 556901
Hull Material: Aluminum
Engine/Fuel Type: Single Diesel
YW# 1903-1710273
Anchored at St. Vincent.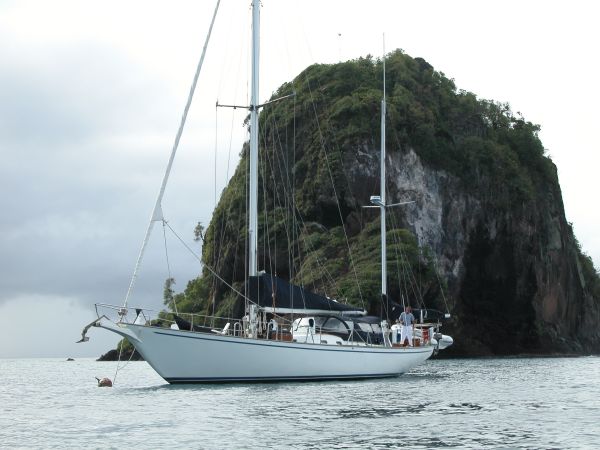 Additional Specs, Equipment and Information:
Builder/Designer
Builder: Russel Brothers
Designer: William H. Tripp
Dimensions
LOA: 60'
LWL: 41'
Beam: 16'
Displacement: 38 net tons, 42 gross tons
Draft: 6' to 16'
Ballast: Internal Lead
Engines
Engine(s): Perkins
Engine(s) HP: 130
Engine Model: Sabre
Hours: 12039
Cruising Speed: 1400 nm, 200 hrs at 7.5 knots
Max Speed: 8.5 knots at 2300 rpm
Tankage
Fuel: 300 gal
Water: 300 gal
Owner: MAJU INC 6334 BOZMAN ROAD PO BOX 2158 EASTON, MD 21601
Hailing Port: ST MICHAELS MD

General Description
Papillon, x Interlude, x Bonaventure II, is a William H. Tripp design classic world performance center cockpit yawl. 6' draft center board up allows her into smaller, shallow harbors and closer to shore in tight shallow anchorages. The 14' draft board down affords her excellent sea keeping ability and reasonable windward performance on offshore passages and club racing. The substantial construction by Russel Bros. shipyard in Ontario, Canada, was a result of ship-type specifications that are seen throughout the vessel.

The current owners of Papillon have sailed her from the North Atlantic to Central America, with several years cruising the Caribbean. They have upgraded all systems to modern specifications, adding equipment, electronics and sails, and making the sailing of Papillon comfortable for just a couple or small crew, while keeping the look of the original design. In addition, the main mast has been reduced, enabling 65 ft clearance under the bridges of the Inland Waterway. By way of compensation, a fully battened main sail has been added, replacing the lost square footage and lowering the center of effort.

Papillon is a powerful offshore vessel, yet her rig and centerboard configuration allow for exploring shoal anchorages that boats half her size are unable to access. The deep center cockpit provides unobstructed use of the winches for those tending the vessel, while those guests off-watch have a comfortable and secure place to relax. Her wide, uncluttered deck and large handrails at the mast makes tasks up forward safe in any weather, and her split rig allows for the shortening of sail quickly and multiple combinations of sail. Below deck, Papillon has a classic layout that is perfect for both cruising and offshore, with all the comforts of home when cruising, and a bunk always available on a lee side when passage-making. Bill Tripp Sr. designed a yacht that does everything right and still turns heads at every port!

Accommodations and Layout
Sleeps 4 owners and guests in 2 staterooms, plus 2 dinette berths, 2 settee berths, and a Captain's berth for a total of 9 berths. The master stateroom is aft with head, shower, a double and single berths. There is 1 guest stateroom including 1 guest head and 1 guest shower.

Walkthrough
From the cockpit proceeding down the large companionway ladder via four stairs to port is a full size navigation station with main electrical panel and to starboard is the guest head, Captain's berth, and access hall to the aft cabin. The centerboard winch is mounted next to the companionway. Below the large mahogany navigation table are three full size chart drawers. There is a full set of navigation electronics for offshore cruising.

Next, forward to starboard is a full service sea galley. The three burner stainless steel stove with oven is gimbal-mounted against the port side with a microwave oven positioned above. A locker forward of this space is large enough to store all of the pots and pans. For all of the provisions, there is a chest-style, top loading refrigerator/freezer that begins underneath this locker and extends to mid-ships. It is topped with a teak countertop and has a fold-up extension for additional working space. To starboard, there is a double stainless steel sink set in white Corian. There is a fresh water filter system. There is ample storage in the drawers and lockers for extended cruising.

Forward of the galley is the main salon, with centerline fold-out gimbaled table with seating for eight. Outboard on either side are comfortable upper pilot berths. Both lower settees slide out to form double berths. There is extensive storage in the drawers and lockers behind and under the settees. The galley and salon are well ventilated by numerous port lights and hatches. There are two large full size hanging lockers with shelves located to port and starboard at the head of the salon.

The salon is separated from the forward stateroom by a watertight collision bulkhead with watertight door. This cabin has a large v-berth with hanging lockers to port and starboard and a built-in settee to port. Brass reading lights and full length mahogany bookshelves that extend the full length of the cabin complete the comfort.

Proceeding aft and starboard from the companionway, there is a wet locker at the base of the stairs. Conveniently located across and starboard from the companionway is a large head and shower with an electric toilet. The location of the head allows individuals to use the facilities without going through the center of the boat. Next aft is a Captain's berth with a wall-mounted bookshelf and reading light. Continuing aft, the master stateroom has both one single and one double berth with bedside teak bookshelves, storage cabinets, and reading lights. There are six large drawers to starboard and 2 hanging lockers. Access to the cockpit by private companionway. The head with shower is located to port. This cabin has excellent ventilation provided by six opening port lights and hatch.

The engine room is accessible through the port cockpit locker or the watertight door under the companionway stairs. There is a 9 kw generator located to port under the workbench. The fuel filter, manifold valves, refrigeration compressor, and battery charger are positioned in this locker for easy maintenance. Access to the engine is through sound-proofed doors.

The center cockpit is deep and well protected. Most sail controls are directly accessible by the surrounding six winches, the largest two being electric and four self-tailing. There is a large dodger with an attachable top section and side curtain windows to fully enclose the area during wet or cold weather. The sail locker is under the starboard cockpit seat. It is 6' deep and stows most of the sails and lines. The cockpit has inserts that convert this space to a large king-size open air bed. The bow thruster, autopilot remote and compass are on the binnacle with an antique nautical steering wheel. Engine gauges and a computer flat screen, which displays electronic charts, are mounted on the face of the bulkhead and a radar remote screen is mounted on top of the bulkhead, with all easily visible from the helm. There is a small folding cockpit table and fresh water and saltwater deck wash down spigots. All of the sail controls lead to the cockpit and can be easily handled by one person without going forward.
Electronic and Navigational Equipment
Radar: Furuno 1745 24 mi with cockpit remote screen
SSB: Icom 802; new 2006
Autopilot: Simrad 300x control twin hydraulic drive with cockpit remote
Wind instr: Data Marine
Speed log: Data Marine
Depth log: Data Marine
VHF: Icom M100 and cockpit remote
GPS: Furuno Navigator
Compass: Richie 6"
Stereo: Kenwood with cockpit remote control and 12 CD changer
Speakers: all cabins, 2 cockpit
TV: Toshiba with Panasonic DVD player
LCD flat screen: Viewsonic, cockpit mounted, wired for laptop for navigation
and movies
windlass: hand-held remote
autopilot: hand-held remote engine instruments new high water alarm

Engine Details
Perkins Sabre 130 hp diesel engine, fresh water heat exchanger, new 2004; 2:1 transmission; hydraulic shaft break; engine sensors, alarm, and emergency stop.
Engine room enclosed and lead/foam sound-proofed; remote oil filter; all maintenance from portside access.

Deck and Hull
Two centerboards – one main board 14' depth and 1 aft steering board.
6' bow sprit; two anchor rollers; bow pulpit rail; side stanchions with lifelines; 4" varnished teak tow rail with stainless steel rub rail; two varnished teak deck boxes for deck gear stowage with covers; zippered Stack-Pack sail covers for main and mizzen sails; forward hatch cover; dodger with attachable bimini top and sides with windows; forward sun awning; main sun awning; forward hatch scoop; winch covers; rail covers; hatch covers; deck box covers; Edson pedestal cable and shieve steering; manual dinghy davits; rebuilt Falcon electric windlass; fenders and dock lines; navigation lights; search light; spreader lights; swim ladder; Caribe 9' hard bottom inflatable dinghy; 15 hp Honda outboard engine; stern boarding passerell; two stainless steel handrails on either side of mast; teak boat hook.

Rigging
Spars:
1 aluminum masthead mainmast, single spreaders
1 aluminum mizzen mast
1 aluminum roller furling main boom; 1 mizzen boom
2 spinnaker poles; 1 reaching strut

Standing Rigging:
1 Schaeffer 3000 series roller furling head stay, new 2004; stainless steel wire with stainless and bronze toggles and turnbuckles; all standing rigging replaced 2004

Running Rigging:

All lines replaced 2004:
8 flush screw in pad eyes for mizzen staysail tack fittings or preventer
blocks
6 sliding lead block cars

Sheet Winches:
2 Barient 30 non-tailing
2 Lewmar 65 2-speed self-tailing
2 Anderson stainless steel #68 2-speed electric, self-tailing with high/low combing switches

Main Sheet:
Barient 28 2-speed self-tailing


Main Boom:
Traveler, main sheet blocks new 2006
2 double turning blocks on rail
4 rail cars

Winch Handles:
3 double handles and 3 single handles
misc handles

Sail Inventory
Headsails:
Quantum 130% roller reef, new 2005
Quantum cruising chute with sock, new 2005
storm jib
1.5 oz. spinnaker with papillon (butterfly) pattern
#1 genoa, 130%, 1986
#2 genoa, 120%, ¾ hoist

Mainsails:
Quantum fully batten main, new 2005

Mizzen:
Quantum, new 2005
mizzen staysail
Electrical System Components
Generator: Onan 8kw, new 2004, 1070 hours
12 volt smart charger with link 10 monitor
32 volt charger with link 10 monitor
battery isolator with remote switch
Safety Equipment
EPIRB 406, registered 2005 and inspected
6 man life raft in canister, inspected 2005
M.O.M. rail-mounted, new 2005
10 USCG-approved life jackets
rail-mounted recovery net
2 hand-held spotlights
4 safety harnesses with tethers
2 self-inflating safety harnesses
2 flare guns, assorted flares
2 air horns
2 hand-held GPS (1 packed in raft)
hand-held compass
hand-held VHF2
3 fire extinguishers
ship's bell
emergency tiller
manual bilge pump

Mechanical Equipment
Cockpit controls:
Morse cable style

Steering:
Edson pedestal, cable/quadrant, 4" aluminum rudderpost

Pumps:
12 volt ShurFlow fresh water pump
12 volt ShurFlow salt water pump
32 volt Jabsco bilge pump with auto-float and remote switch
Jabsco self-contained electronic aft bilge pump
Jabsco sanitation discharge pump
Jabsco macerator pump

Autopilot:
Simrad 300X with twin hydraulic ram, new 2007

Engine Rm Blower:
Jabsco 12v

Galley Fan:
Jabsco 32v

Ground Tackle
anchors:
2 - 85 lb CQRs
1 – 65 lb danforth

rode:
300 ft of chain with swivel
200 ft of nylon rope

Galley
refrig:
SeaFrost with large capacity freezer with cold plates, 2007

stove:
Force 10 propane stove with oven, 1996

water heater:
Vetus 20 gallon, 2007

cookware:
assorted pots and pans, dishes, and stainless steel cutlery
Cushions and Linens
Memory foam bed mattresses, new 2005
Bed, salon and cockpit cushion covers, new 2005
custom-fitted sailboat-pattern bed linens and comforters, new 2005
misc towels, bed and throw pillows
Additional Equipment
bosuns chair
4 scuba tanks
2 - 30 gallon propane tanks
folding dock cart
folding bicycle
spear gun
fishing equipment
rail-mounted BBQ grill, propane with additional tanks
Tools and Spare Parts
extensive hand tools, cable cutters, swagging tool, large pipe wrench
spare pumps, belts, filters, impellers, bulbs, fastenings, clamps, screws, bolts, additional spare lines, running rigging, etc.
Joe Fossey Archive.
Mar. 3, 2009: Photos of ex Bonaventure II, the larger of only two Russel aluminum sailboats,
for sale on yachtworld for $225.000 USD. Click to enlarge to 600 pixels.
Notes on W. Bernard Herman, 1st owner of Bonaventure II
by Dan Erlich, July 4th, 2012
Mr. W. Bernard Herman - Bernie to his friends was the owner and my Skipper on Bonaventure V - a C&C 53 custom. He passed away a year ago on April 7th, 2011. Bonaventure II is the boat on the Russel site though they report her as 60' with that bow sprit which was not original to the yacht. As Bernie had her built she was 57'. In Canada the registrar of shipping won't allow duplicate names. Bonaventure was Canada's one aircraft carrier. She was scrapped many years ago.

Bonaventure II was a center board design and it was not a stellar performer except with the spinnaker up downwind in a blow - there she was fast. But she was also quite heavy for her length and if the winds were puffy the sail technology was such in the day that the spinnakers exploded in puffy conditions. One race was like that and the crew blew out every chute on the boat - except the lightest one..... The term "lower the tapes" was coined as that was all that was left of the chutes. Bernie grabbed the half ounce chute and put it in his bunk and sat on it saying to the crew "you are not getting this one". He was upset but years latter the story sounds funny - the picture of him sitting on that sail bag like a hen on an egg protecting it.

His boats were as follows: Galetea, a 48' yawl, Innisfree a Cuthbertson desined yawl of 53' Bonaventure II, which we had recorded as 57' yawl by Bill Trip, Bonaventure IV a Whitby 45, Bonaventure V - C&C 53, Baby Bonny and Scortcher - Nonsuch 30's (both), two Hunter 45's and Bonaventure VI. Bonaventure IV was his Whitby 45 - sail number 4000 later Duska IV owned by Kurt Hansen from Whitby Boat works - he bought it back from Bernie and sailed it for years afterwards. I don't know where she is. Bernie never owned Bonaventure III - I do not know who did or what she was. He had Bonaventure VI constructed and launched ten years ago - a Mark Ellis design of 55' Bernie's Wife (now widow) owns Bonaventure VI - I sailed on her on Monday.
| | |
| --- | --- |
| | |
Bernie trained hundreds of sailors in his lifetime and gave us experiences we would never have had without him. We all miss him a great deal.

Years ago before the start of the Port Huron to Mackinaw race on Bonaventure V Bernie and I were over there from Sarnia where the fleet was and he pointed out this boat to me sitting at a dock there. She was a pretty cruiser by that point in time. She still is. Amazing that the boats he had built remained relevant and useful for decades after he had them and still are around.

He was the Chairman of City Parking, later Citicom which became a real estate company which he guided until he passed away. He was my friend and mentor.
For more Russel exhibits visit Owen Sound Marine & Rail Museum 1165 1st Ave West, Owen Sound, ON N4K 4K8
(519) 371-3333

http://marinerail.com