Russel Brothers Limited OWEN SOUND, ONTARIO Steelcraft Boat Builders
Allagash / Le Sapin Comeau
Canadian List of Shipping 1956: Allagash [C.173336] registered at Port Arthur; built at Owen Sound in 1941. 55' 5 x 14' 5 x 5'8; 34 g.t.; 23 n.t.; 400 hp. Owned by Marathon Corporation of Canada Ltd., Toronto. Canadian List of Shipping 1970: Steel tug Allagash [C.173336] registered at Montreal. Built at Owen Sound in 1941. 56'; 34 g.t. Renamed b] Le Sapin Comeau. Canadian List of Ships 1997: Steel tug Le Sapin Comeau [C.173336] ex-Allagash. Built 1941 at Owen Sound. 16 meters; 34 g.t.; 23 r.t.; Owned by Service De Traversier Masson-Cumberland Inc., 105 CH Fer A Cheval, Masson Angers, QC JBM 1L8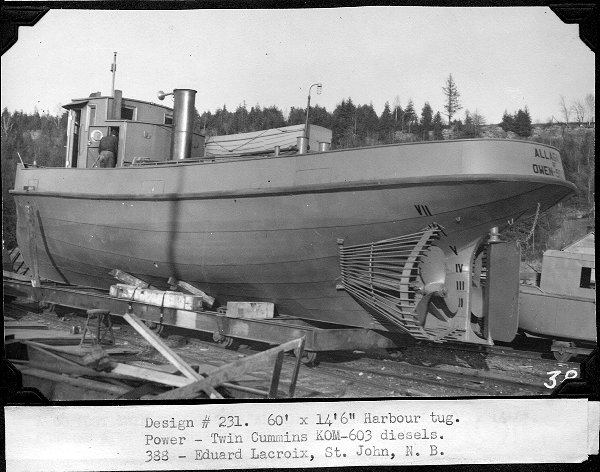 Jean Lacroix of Produits Acéricoles Cumberland says these two shots are from
"Lacroix Photos Album, Madawaska Company", 1943.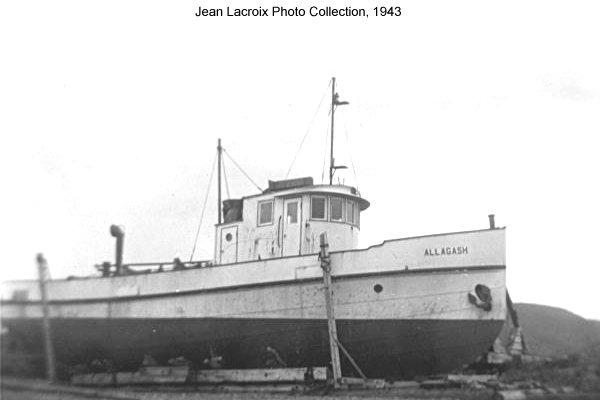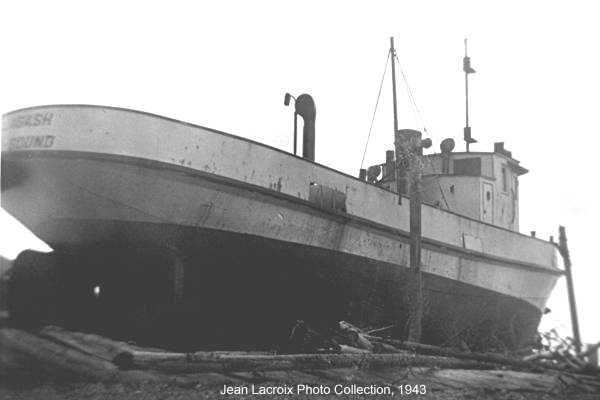 Leigh Cossey comments (Dec. 8, 2017): "Marathon Paper bought the Allagash in northern Quebec and it took 36 days to get her to Marathon Dec. 6, 1950."

---

Ivan Brookes Scrapbook, Unsourced Clipping, June 18, 1953: Boat Capsizes, rescued By Tug. Port Arthur, June 18 – An elderly lighthouse keeper and his young assistant were pulled from the icy waters of Lake Superior Wednesday after their small boat capsized on a trip to the mainland at Marathon 125 miles east of here. Edward Huard, keeper of the Hawkins Island light, and Joseph Archibald, 20, his helper, were rescued by the Marathon Paper Mills tug Allagash as they neared exhaustion after holding on their overturned boat for more than half an hour. A member of the tug's crew spotted the boat bobbing in the rough water.
Photo from the Marathon & District Historical Society, undated.
Photo taken by Glenn Fromme-Douglas, likely early 1950s.

Ottawa River Ice Breaker (undated/uncredited)

RBF notes: Ex Allagash (Masson-Angers, QC April 6, 2004)

Le Sapin Comeau spotted in drydock along the Ottawa river at the ferry connection between Cumberland, Ontario and the Province du Québec. 2005-06-12
tugfest.net: Uploaded by: Lighthouse Keeper [12-06-2005 14:47:25 EDT]

Google Streetview photo dated 2014, Masson-Angers.
Service De Traversier Masson-Cumberland Inc., 105 CH Fer A Cheval, Masson Angers, QC JBM 1L8 source

For more Russel exhibits visit Owen Sound Marine & Rail Museum 1165 1st Ave West, Owen Sound, ON N4K 4K8
(519) 371-3333

http://marinerail.com