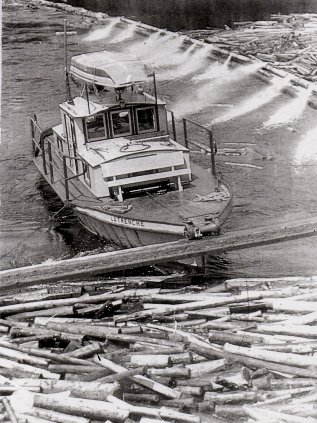 ENLARGE TO 1268 PIXELS WIDE
Photo by Réjean Boisvert
Yves Cloutier notes: La Trenche backing up in front of the log chute at La Trenche dam. You always had to be carefull not to hit the boom where the water jets are installed.... Here is how to do this manoeuver on La Trenche, R J Beaumont, Henry Sorgius and others similar tugs with the original transmission.
When you are close to the lug chute, close enough not to Jam your bunch of logs in front of it!.... let's say 5 to 10 yards...
1.- Bring the throttle handle to idle (short handle to your left in front), engage the transmission to reverse (long handle on your right), push the throttle to rev the engine enough to stop the boat and back up a few yards. The chute is close!, very close !
2.- Return the throttle handle to idle, release the winch break (pedal to your left), engage the winch (handle behind you) to lift the wooden piece in front of the boat. When the piece is up, engage the winch break to lock every thing in place.
3.- Turn the wheel to your right (caution here, the propeller will pull the rudder after it passes the middle point, the wheel can turn pretty fast!), apply full power on reverse to turn opposite to the water jet. Always watch not to hit anything on the other side.
4.- When the boat is half turned, release the throttle, turn the whell to the left, engage transmission forward, apply power and get out of there.
It's amazing to see how the boat turns on itself when you engage forward to full power after you have started the turning manoeuver on reverse!
Doing this trick about 40 time a day, you had to rely on your machine, any failure: engine, rudder, transmission, winch or broken steel wire; would put you in serious trouble in front of the chute, not a good spot !!!