Russel Brothers Limited OWEN SOUND, ONTARIO Steelcraft Boat Builders
Glenbrook
Particulars of Canadian War Vessels Building & Projected by Naval Service Headquarters (D. N. C. Dept.) 1943-45:-Glenbrook [C.N.889] built by Russel Bros., Owen Sound, Ontario (Also listed as Glen Brook). GAO Notes: Steel diesel tug Glenbrook [C.371769] built in l944 at Owen Sound by Russel Bros; rebuilt in l980: registered at Hamilton, ON. owned by McKeil Work Boats Ltd., Hamilton, ON. 81' x 21 ' x 9'; 91 g. t; 22 n.t. Dan McCormick Notes: October 11, 1995 Downbound Robert B. No. 1, Glenside and Glenbrook with dead ship Canadian Hunter for Montreal. GAO Notes: Sold out of the McKeil fleet in 2000 and went off lakes, possibly to the Bahamas. See clipping file for pics. See also James E. McGrath, Adam E. Cornelius [3], Elmore M. Misner and The Andrew B. clipping files for pics. Canadian register was closed January 8, 1999.
Glenbrook and Glenside, Halifax NS, 1977. Photo courtesy Mac Mackay.
Rene Beauchamp notes (June 16, 2017): GLENBROOK near Montreal on Nov. 3, 1977 on her delivery trip from the Navy base at Halifax bound for Hamilton following her purchase by McKeil Work Boats Ltd. She was towing her fleetmate GLENSIDE barely visible in the photo.

1987, with Rosaire in Gaspé , QC. Photo courtesy Michel Tremblay.
Glenbrook in the St.Lawrence Seaway near Montréal. That day of Dec. 5, 1987, she was assisting another tug towing the american laker ROGERS CITY sold to be broken up overseas. Photo by Rene Beauchamp.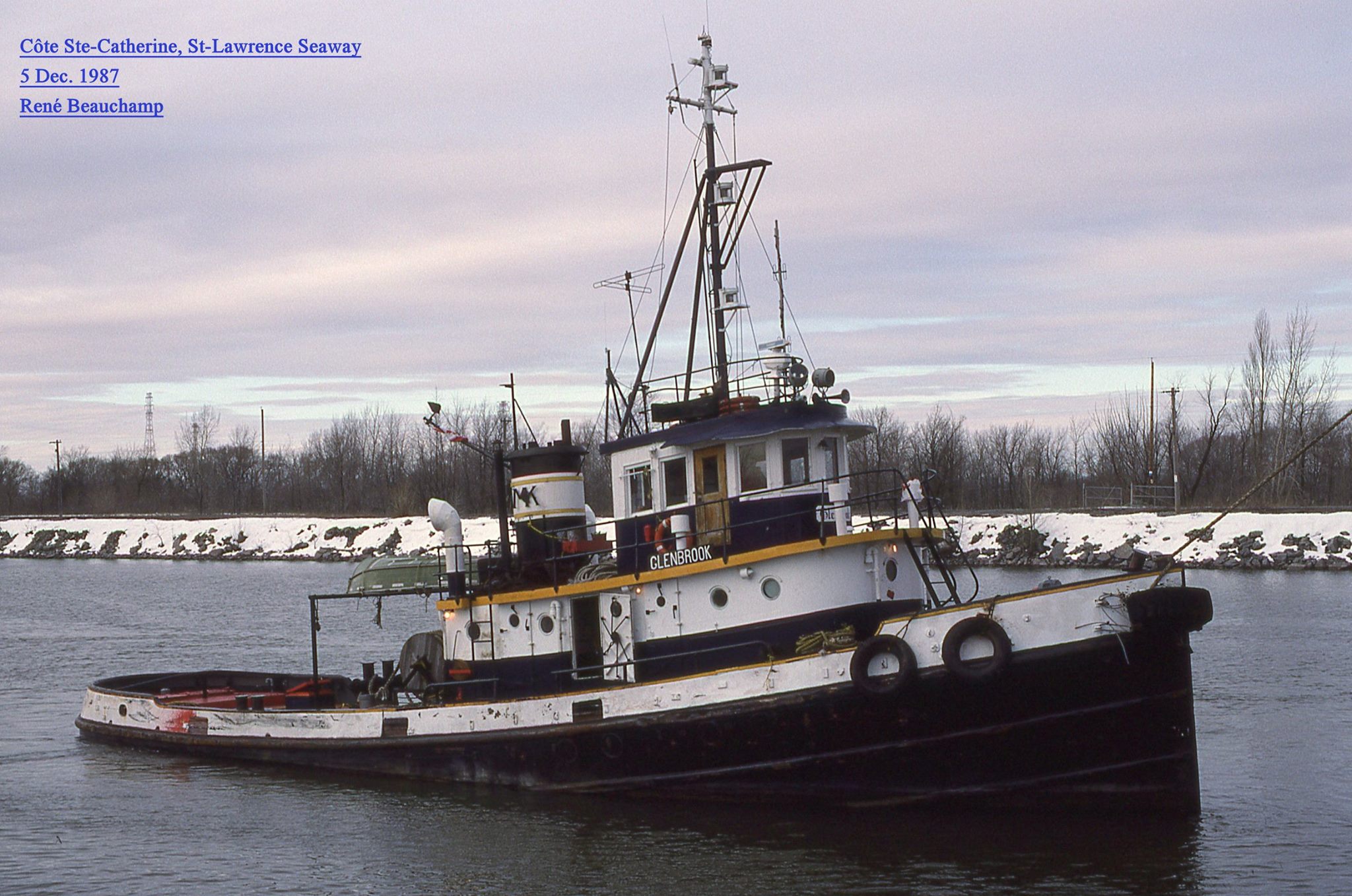 Argue Martin, Fort Chambly and Glenbrook July 16, 1989, Port Colborne.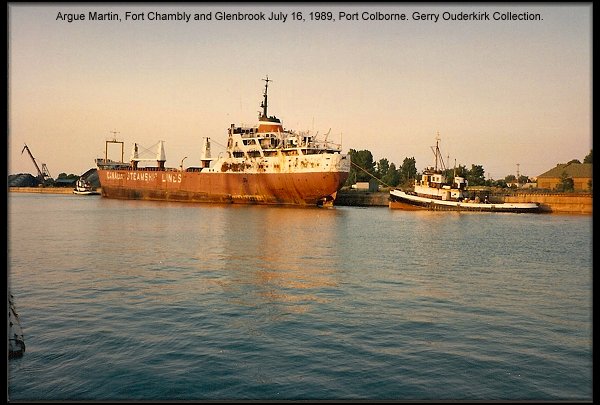 Glenbrook in front of Paul E., Cote Ste-Catherine near Montreal, Sept. 27, 1992.
Michel Richard photo courtesy of Rene Beauchamp.
GLENBROOK giving a hand as one of the two "break" tugs assisting a lead tug towing the canadian laker STADACONA on her last voyage. Photo taken in the St-Lawrence Seaway near Montreal by Michel Richard.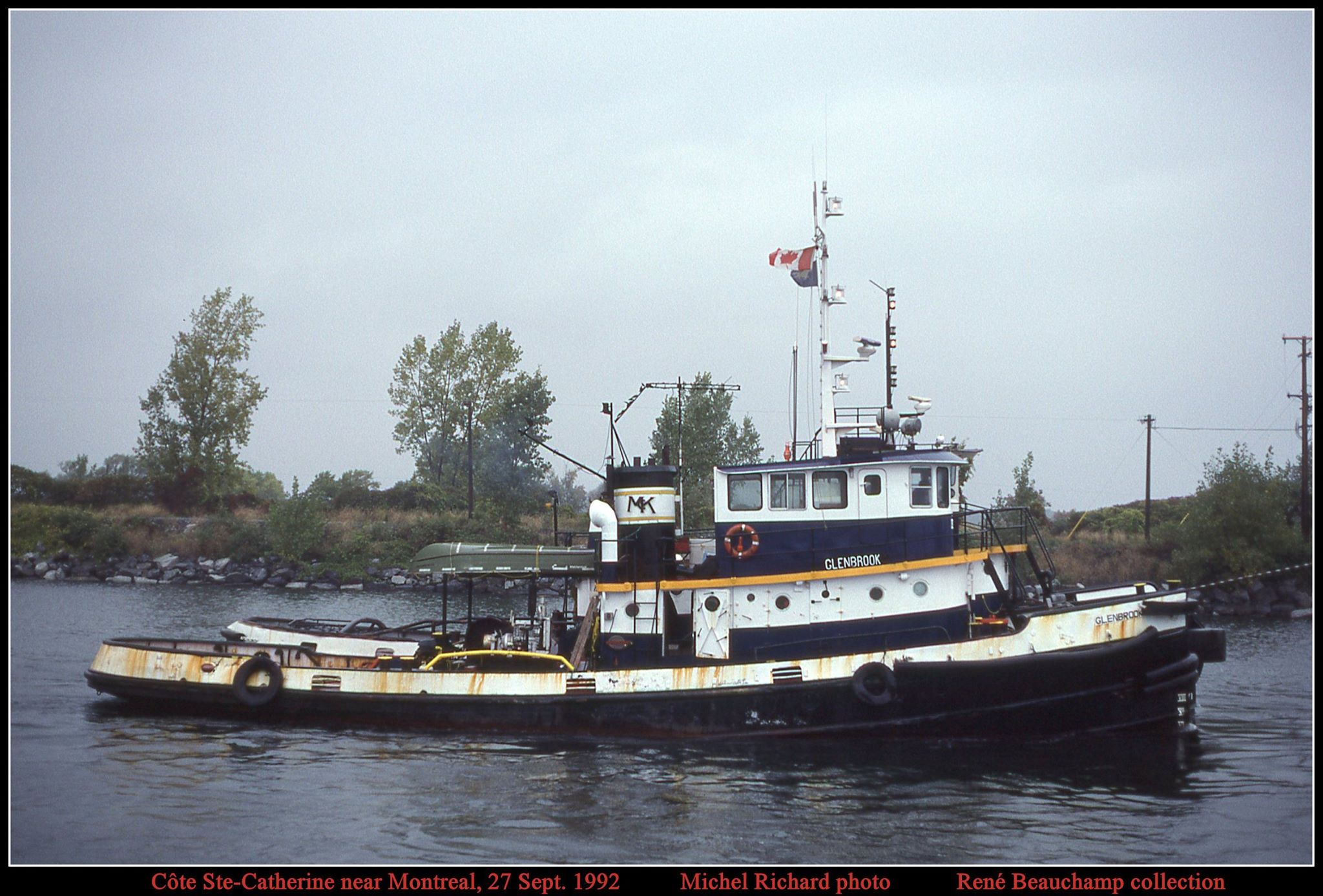 GLENBROOK (May 5, 1995) in the St.Lawrence Seaway, Beauharnois area near Montreal, towing the laker Canadian Pathfinder. Four other tugs were assisting, amazing!
Photo courtesy Rene Beauchamp.
SV notes: Glenbrook in McKeil Marine colors, on a windy fall day in the Welland Canal. Photo was taken prior to 2000. She was towing former railway tugs Margaret Yorke and Phyllis Yorke down the canal.
RM notes: This photo of the Glenbrook was taken at Ramey's Bend by Dave Shaw of Mississauga. I bought the photo at a train show a few years ago.
GAO notes: Glenbrook Aug. 24, 1993 Eisenhower Lock, photo by Dan McCormick.
GAO notes: Glenbrook July 10, 1994. Erieau ON.
GAO notes: Glenbrook Aug. 31, 1994. Port Maitland ON.
GAO notes: Glenbrook Nov. 5th, 1995. Port Stanley ON.
For more Russel exhibits visit Owen Sound Marine & Rail Museum 1165 1st Ave West, Owen Sound, ON N4K 4K8
(519) 371-3333

http://marinerail.com