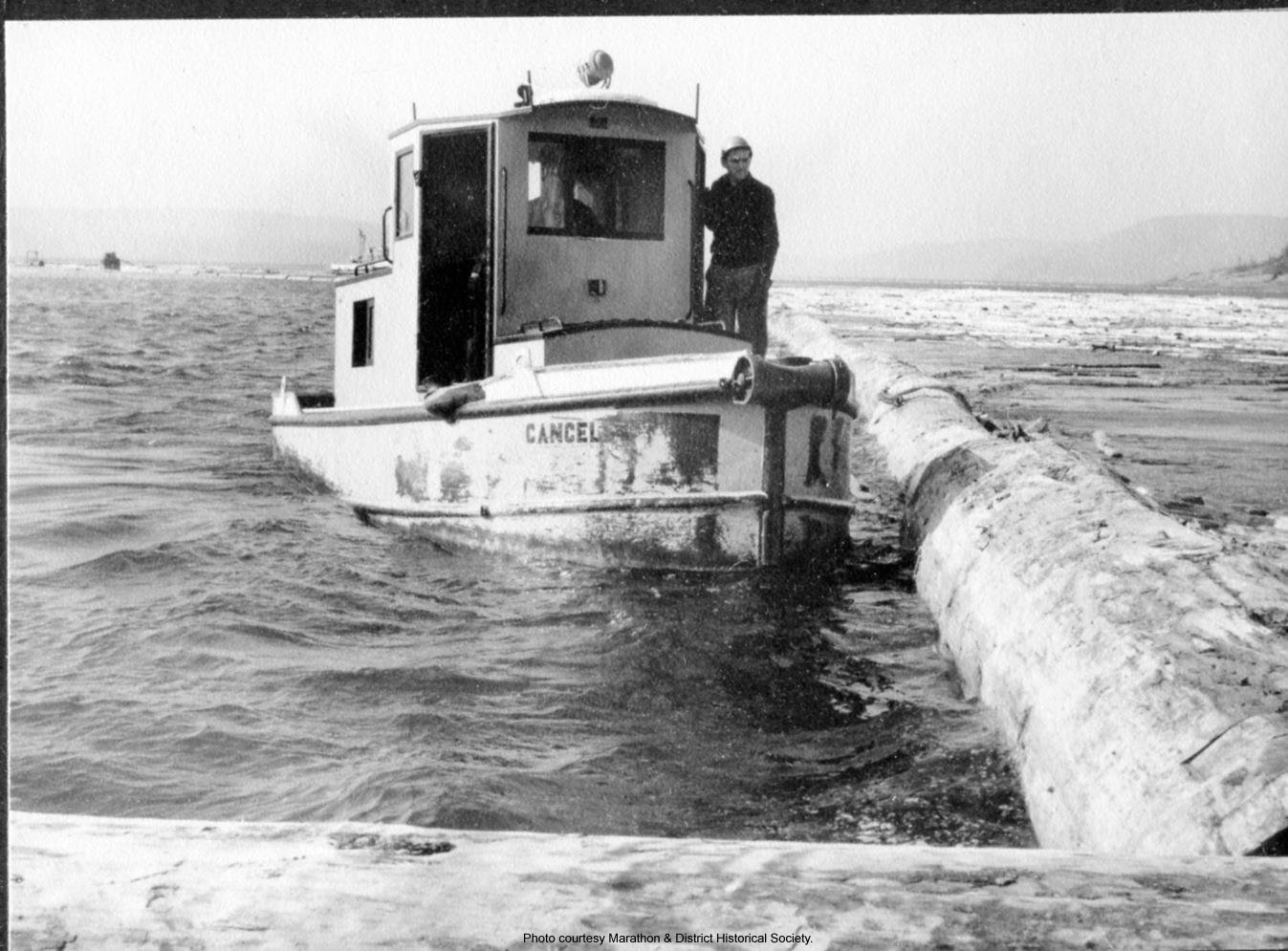 Gord Campbell comments (Jan. 17, 2018): "On my way up the ladder of jobs, I drove this boat as the raftsman. It was either that or pond leader. Cancel was way underpowered for its size. When Cancel was down for repairs, I also operated the Obabika which had a 750 Cat. three times the size of this.
I was the Raftsman. Two maybe three times a shift, I'd leave the long poles, walk the booms past the flow boxes, hop on Cancel, hook onto the pond boom drive a long way into the wood floating on the water eyeballing the amount of wood needed so that the Orville tug could continue to push the wood into the jackladder pond where the pond crew using short and long poles straighten out the wood onto the jack ladder.
and the other important job position was Pond Leader who was crew leader for the Jackladder crew using short and long poles, lining up the wood in the inner bridge pond so the jack ladder moves the wood up to the saws, then to the bark drums, sorting tables, then to the piles or straight to the mill chipper. The skill and commitment of these crews determined the amount of wood dewatered per shift which was usually between 700 to 1000 cords per.
Orville and Cancel were the boats. After thirty years of heavy use, they broke down sometimes. Obabika came into replace Cancel. or Orville - which was quite a learning curve of adapting operation. With 750 horses it was very easy to send the wood into the jack ladder pond.
When both Orville and Cancel went down, the company brought down the river sweepers to get the wood moving. It was the opposite operating technique to Obabika. With the Obabika you positioned the boat in relation to the flow boxes pushing the wood along the booms. Like I said Obabika was big and bad, I loved it.
With the sweepers we had to use both. I worked with, the then boat driver. As strong as the other boats were, a good size log could stall the sweeper in the water. We had to work in pairs, keep the wood looser, which mean we had to scoop the main rafts more often. We didn't want the wood double level. We used the wakes of the sweepers to move the wood into the stream currents from the flow boxes."
For more Russel exhibits visit Owen Sound Marine & Rail Museum 1165 1st Ave West, Owen Sound, ON N4K 4K8
(519) 371-3333

http://marinerail.com