Russel Brothers Limited OWEN SOUND, ONTARIO Steelcraft Boat Builders
Brompton Caribou / Albert C.
Canadian List of Shipping 1956: Brompton Caribou [C.197997] registered at Port Arthur; built at Owen Sound in 1955. 27' 2 x 7' 5 x 2' 9; 4 g.t.; 3 n.t.; 32 hp. Owned by St. Lawrence Corp., Ltd., Montreal. Canadian List of Shipping 1970: Steel tug Brompton Caribou [C.197997] registered at Port Arthur; built at Owen Sound in 1955. 27'; 4 g.t. Also carried in Canadian List of Shipping 1994. Owned at Fort Frances, Ontario. RBF Notes: Hull 1058, built by Russel-Hipwell Engines Limited. Owned in Fort Frances, ON by George Armstrong and willed to son Larry. Bought by Robert B. Farrow in May of 2004. Trucked to Thunder Bay, ON on September 30, 2004. Builders plate states length as 28'6 x 7'6. Actual measured length including roller is 29'6 and width is 7'9. Powered by a 36hp 4 cylinder Lister Diesel Engine, model FR4. Winch removed October 11, 2004. Sold fall 2016 to Matthew Carlson of Thunder Bay for restoration. Renamed Albert C.
Robert B. Farrow aboard his Brompton Caribou, May 15th, 2006.
Small tug Brompton Caribou by Robert B. Farrow 9/24/04.
boatnerd source: http://www.boatnerd.com/news/newsthumbs/newsthumbs_049.htm
Moving the Brompton Caribou, Sept 29, 2004, photos by Robert B. Farrow.
Click to enlarge.
JUST DROP IT OVER THERE! Brompton Caribou, Sept. 29, 2004.
Here's Rob's Brompton Caribou Winch Boat and Model (the bear isn't his).
RBF notes: Brompton Caribou wheel.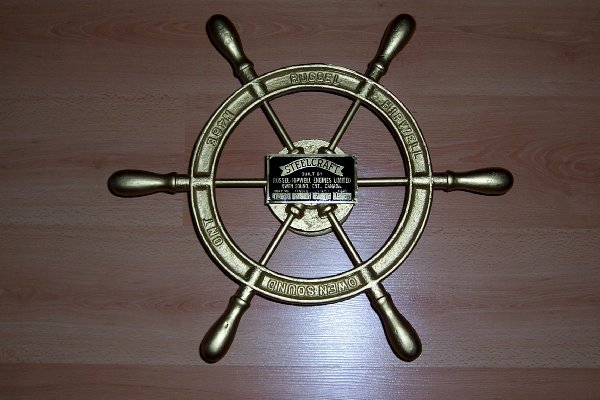 Rob Farrow notes: Published on 8 Jul 2015. This is an old Logging Tug or commonly called a winchboat built in 1955 at Owen Sound Ontario by Russel-Hipwell. It was used up on Lake Nipigon for the Brompton Mill, which became the Red Rock Mill and is now closed!

Matthew Carlson notes: Published on 15 Sep 2015. loading the 1955 Russel-Hipwell logging tug Brompton Caribou to have it hauled to its new location on August 28, 2015. I will be restoring this boat and using it as a pleasure craft for fishing and boating down the river and around Thunder Bay. built in 1955 in Owen Sound, Ontario by Russel-Hipwell engine company (previously Russel Brothers Company), stem-stern she 29'6" long and is 7'6" wide, it is powered by a Lister model FR4 water cooled 4 cylinder 36hp diesel engine. it was used by the Brompton Paper mill, later the red rock mill in Ontario, then it was sold to a company in Fort Frances, Ontario. back in the day these were very popular little tugs for rounding up logs and hauling smaller log booms to be joined with others all across Canada. they are simple, durable boats.

Rob Farrow notes: Published on 7 Oct 2015. I recently sold my old Logging Winch Tugboat and this is the video of it being moved off my property! The guy that bought it is already in the process of restoring it for use around the rivers and inner Harbour in Thunder Bay, Ontario. I can't wait to see it running again, pretty cool little tugboat!

August 28, 2015 - Brompton Caribou arrives on the Thunder Bay waterfront. New owner Matthew Carlson.
Matthew Carlson notes: Published on 7 Feb 2016. I took on this project in August of 2015, doing a restore/rebuild of it. It is a 1955 Russel Brothers/Russel-Hipwell "Winch Boat" or gator tug, it is 29' long, 7'5" wide, draft of about 2' and is powered by a Lister model FR4 4 cylinder water cooled diesel engine with a Twin Disc model MG-61 3:1 ratio gearbox. The boat weighs 4.1 tons. I have made great progress so far and I am hoping to have her in the water this upcoming spring which will be the first time in about 20 years that it will be in the water.

Published on 9 Oct 2016. Part 2 slideshow of my 1955 Russel-Hipwell (Russel Brothers) logging tug/winch boat Brompton Caribou, now renamed Albert C. includes stuff like removing the rudder, straitening the bent rudder shaft, re-installing the engine, and painting.

Rob Farrow notes: Published on 21 Jan 2017 When I owned this Tug, it just sat in my Yard! I sold it to a young man who has been restoring it to operating condition. It's still a work in progress but it's come a long way! He finally got to put it in the water and test it and he invited me along for a ride! Thanks Matt!

For more Russel exhibits visit Owen Sound Marine & Rail Museum 1165 1st Ave West, Owen Sound, ON N4K 4K8
(519) 371-3333

http://marinerail.com