Russel Brothers Limited OWEN SOUND, ONTARIO Steelcraft Boat Builders
Arbee II
Design #307 - Canadian List of Shipping 1956: Arbee [C.177816] registered at Toronto; built at Owen Sound in 1946. 50' 4 x 14' 2 5' 9; 36 g.t.; 25 n.t.; 267 hp. Owned by Joseph E. Rogers, Toronto. Canadian List of Shipping 1970. Steel yacht Arbee [C.177816] registered at Toronto; built at Owen Sound in 1946. 50'/ 37 g.t. Also carried in Canadian List of Shipping 1994; owned by John Bradley, Paincourt, Ontario. Canadian List of Shipping 1997; owned by John Bradley, Paincourt, Ontario. GAO Notes: Article in boating Magazine July 1947 calls the vessel Arbee II, owned by "a well-known Toronto yachtsman" Lloyd's register of Yachts 1950: Arbee II power boat built by Russel Bros., Ltd., Owen Sound in 1947. Home port: Toronto. Transport Canada List 2003: No longer registered in Canada.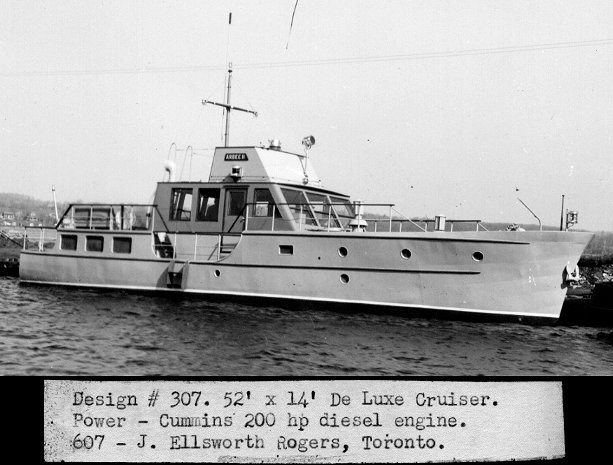 Boating Magazine, July 1947. Joe Fossey Collection.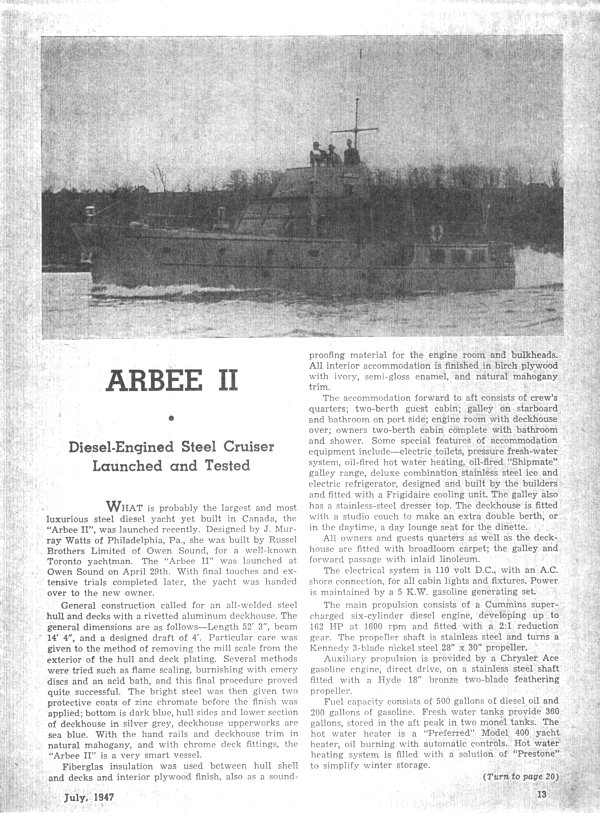 Boating Magazine, July 1947. Joe Fossey Collection.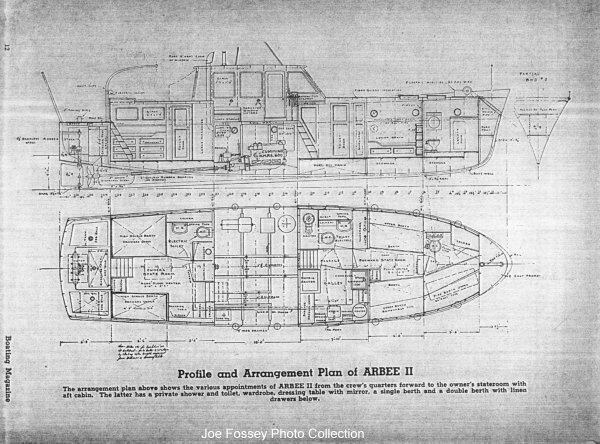 Ex-Russel employee John Warrilow dropped off this photo, originally from another ex-employee Syd Jackson. The back is notated: "Built for Rogers Bros. by Russel Bros. 1946-1948." John remembers working on her, and especially the large well crafted stainless steel refrigerator unit.
Steve Briggs notes: I had an informative chat with John Bradley (last Canadian owner of Arbee II) April 7th, 2007. Joseph Ellsworth Rogers was his father-in-law and commissioned the boat. The Arbee I was a wooden boat, her steel replacement was Arbee II. The Rogers Brothers started as radio manufacturers and then originated the CFRB (Canada's First Rogers Batteryless) radio station in Toronto. John says he bought a cottage and the boat had to go as a result, perhaps 8-10 years ago. It was sold to a Michigan boat broker (Detroit?), and may have ended up in the Chicago area. The fridge/freezer unit was stainless steel with two large doors and worked flawlessly during its tenure with Mr. Bradley. John commented that the boat was extremely well made and never a problem.
Note the fibreglass pleasure craft in the background, the American flag and the
fairly modern appearance of the people's dress and flying bridge canopy.
ENLARGE TO 1024 PIXELS ENLARGE TO 600 DPI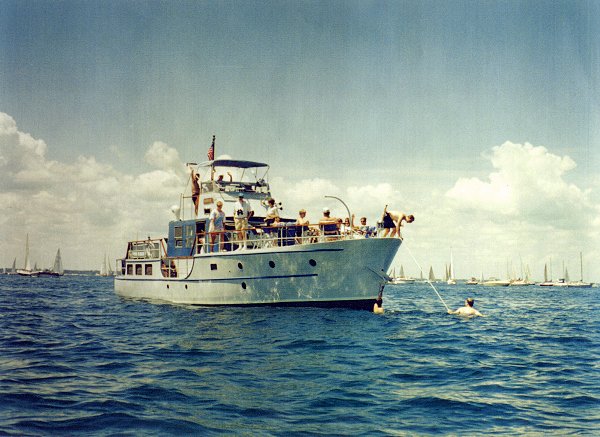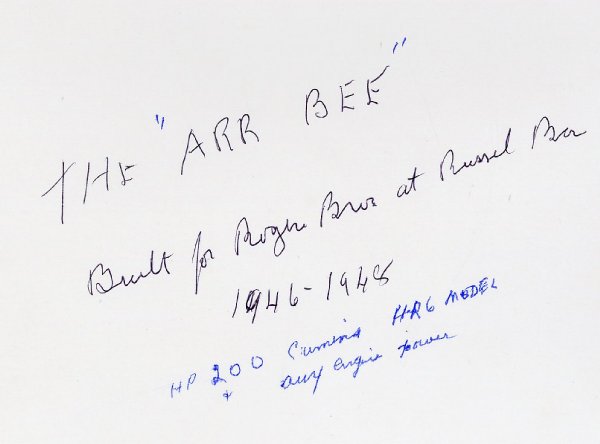 Sept. 20, 2010. Dana Dugger writes: We are refurbishing the Arbee II. She is a 53 x 14 private yacht, built by Russel Bros. in 1947. She was certainly state of the art for her day. We had her underway for the first time yesterday. We have a long way to go. The structure above the main deck is all new aluminum construction, retaining as much of the original lines as possible. The tall one is the stack house, and the lower structure is the cowling for a fly bridge. Sh'es now equipped with keel coolers and dry stacks. This will not be a restoration, it will be a refurbishment as most of the structure above the main deck was MIA when my boss acquired her. She has been re-powered with a 8V71 Detroit. The auxiliary engine was replaced in the early 1990's with a 50 hp Perkins. We have also installed a 22kw gen set. She is in Mt. Clemens. MI, at the docks of the Clinton River Cruise Company.
| | |
| --- | --- |
| | |
Oct. 18, 2010. Dana Dugger writes: Here is a scan of a letter dated May 16, 1945 I found in the former Arbee II.

It reads: "Dear Mr. Rogers: Our associate company, Russel Brothers Limited, has been discussing at quite some length your inquiry for the steel hulled cruiser. I understand that the answer they were able to give you at the present time was not highly satisfactory, but I do know that they are extremely interested when costs get down to a somewhat normal level again.

In the meantime I thought I would take the liberty of sending you some data on Cummins diesel engines.

I know that you are interested in mechanics, and are thoroughly competent to recognize a good thing when you see one. Without further comments, therefore, I merely ask that you look over this literature. I would be very pleased to have your comments, and also would be very glad to send you any further data which would be of interest to you." (Signed by L.W. Childs, Sales Manager, Russel-Hipwell Engines Ltd.).
---
March 7, 2018 David Shearman comments: "J. Elsworth Rogers was the older brother of Edward (Ted) Samuel Rogers Sr. Ted Sr. was the radio engineer who invented the AC tube and the Rogers Batteryless radio. J. Elsworth was the financial brains behind the corporation. The family was very wealthy before the radio tube patent, being well known coal merchants (Elias Rogers) and fuel distributors in Toronto.

Elsworth and Ted's father was president of Imperial Oil, having sold the shares of the family coal and fuel distribution company to the Rockefeller's Standard Oil during WW1. Ted Sr. died suddenly in 1939, leaving a wife and son (Ted Jr). The primary asset of the company (now named Rogers), Majestic, was its manufacturing plant in Toronto and the patents it held. Ted. Sr. had very little personal estate and no insurance when he died, leaving his wife destitute.

According to "High Wire Act: Ted Rogers and the Empire that Debt Built" by Caroline Van Hasselt, everything Ted. Sr owned was held by Rogers - Majestic. In 1945, Elsworth, who had been selling off pieces of the company since his brother's death, finally convinced his brother's widow to sell her voting shares in Rogers Majestic and she was broke. The rest of the Rogers family did little to help her. Elsworth and Ted, according to the book, did not get along. Ted Jr. and his mother felt that his birthright had been stolen from him and the rest, as they say, is history. Given the history of the sale of the widow's interest in the company, the timing of the 1945 letter is fascinating.

Mar. 7, 2018. Arbee II getting ready for a new season of river cruising. The boat is in Mt. Clemens, MI which is about halfway between Sarnia and Detroit. Dana Dugger (Fleet Engineer Clinton River Cruises) writes: "Refurbishment/re-purposing work is in the late stages. We are starting fit out of working boats, as we have a St Patty's day cruise booked!"

For more Russel exhibits visit Owen Sound Marine & Rail Museum 1165 1st Ave West, Owen Sound, ON N4K 4K8
(519) 371-3333

http://marinerail.com