Russel Brothers Limited OWEN SOUND, ONTARIO Steelcraft Boat Builders
A. L. Killaly
Ex- Ward. Canadian List of Shipping 1994: Steel tug A. L. Killaly [C.174016} Built at Owen Sound in 1942. Owned by M. Keith McIntosh, 33 Ponton Street, Belleville. Canadian List of Ships 1997: Owned by Ron Langmuir, Pictou (sic), Ontario. Transport Canada List 2003: Owned by Ron Langmuir, Pictou (sic), Ontario. GAO Notes: Photos and negs in Marine Museum of the Great Lakes, Kingston in Brough Collection. Negs in binder. Historical Collections of The Great Lakes: RBF Notes: Listed for sale on Scruton Marine 2004.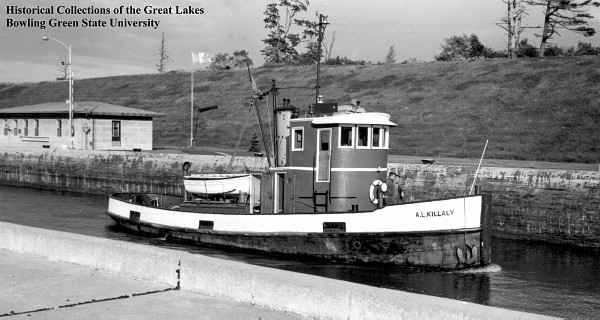 Photo Date: 1969/09/22
Photo and tables below courtesy Great Lakes Vessels Index, Historical Collections of the Great Lakes,
Bowling Green State University
Name Changes
Vessel Name:
Date:
Registry
Official #
KILLALY, A.L.
1947
CANADA
174016
Ownership Changes
Owner Name
Date
Registry
Official #

Ministry of Transport

Ottawa, Ont. Canada

1942 - 1967
CANADA
174016

Arthur F. Simpson

Brockville, Ont. Canada

1967 - 1969
CANADA
174016

Jack E. Eamon

Montreal, P.Q. Canada

1969 - 1970
CANADA
174016

A.F. Simpson Marine, Ltd.

Prescott, Ont. Canada

1970 - 1977
CANADA
174016

Melbourne K. McIntosh

Belleville, Ont. Canada

1977
CANADA
174016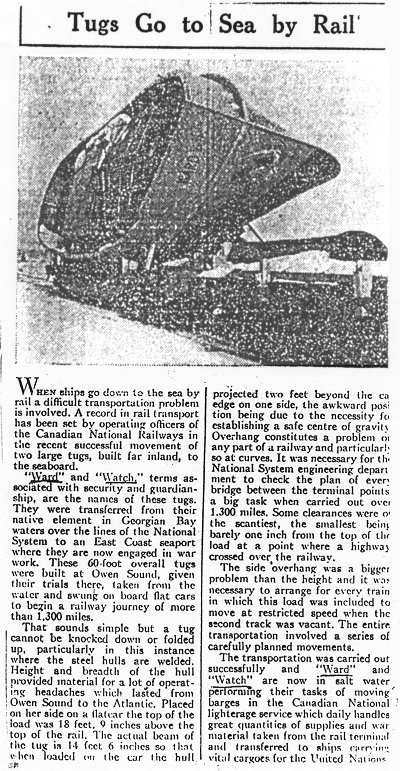 Clipping from R-H News, Nov. 1949 Vol. 1 No. 2.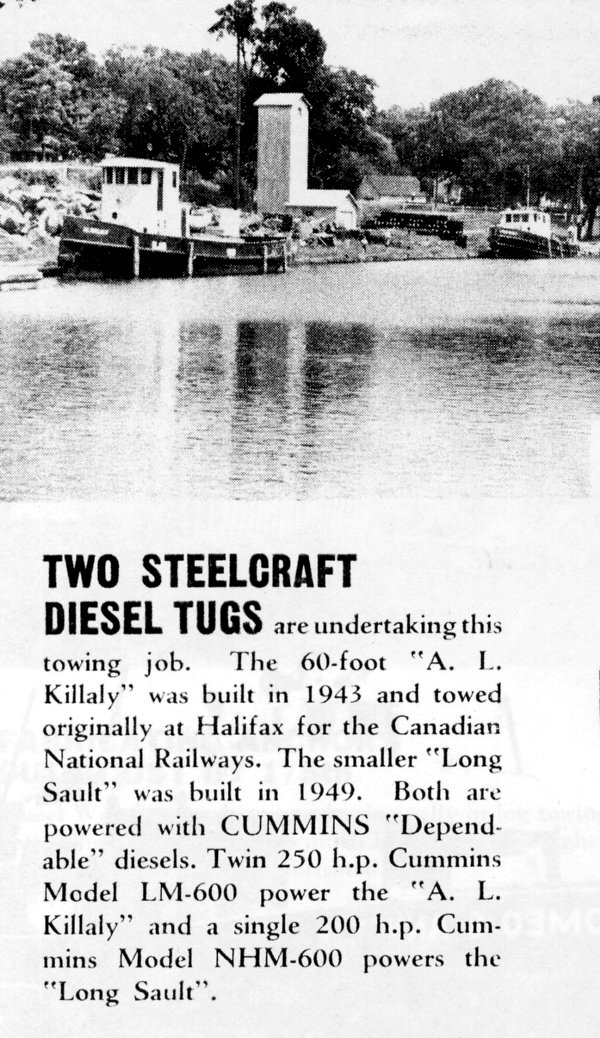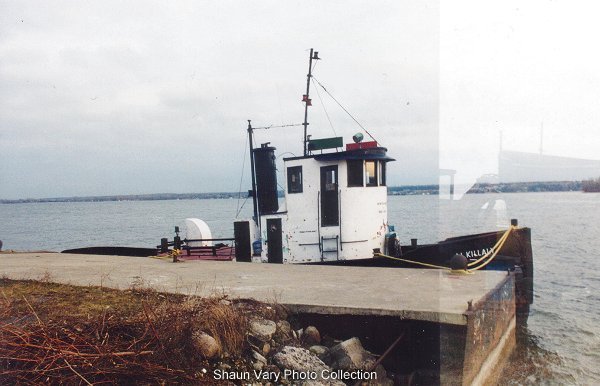 A.L. Killaly in 2003. Ron Walsh photo from Gerry Ouderkirk.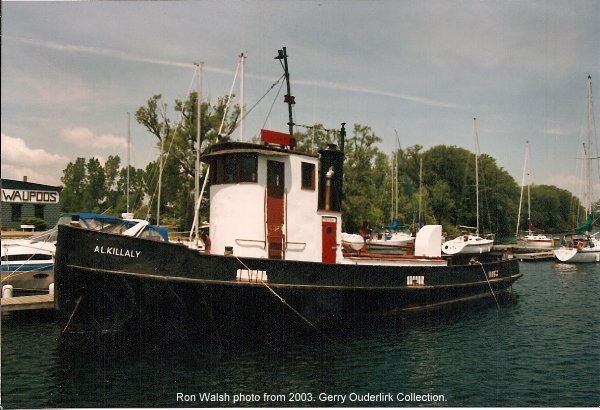 A.L. Killaly Robert B. Farrow Collection.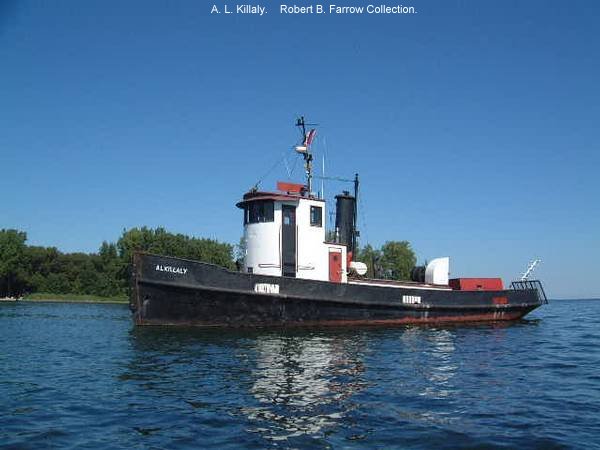 A.L. Killaly being lifted out at Kingston Marina, Dec. 5, 2005.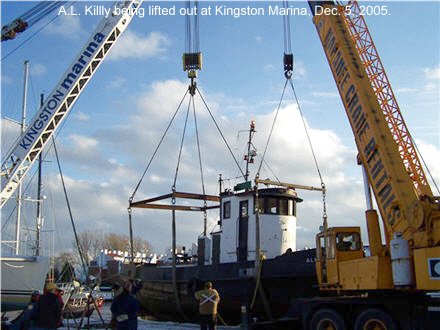 A.L. Killaly in Kingston, 2007. Nicole McLaughlin photo from Gerry Ouderkirk.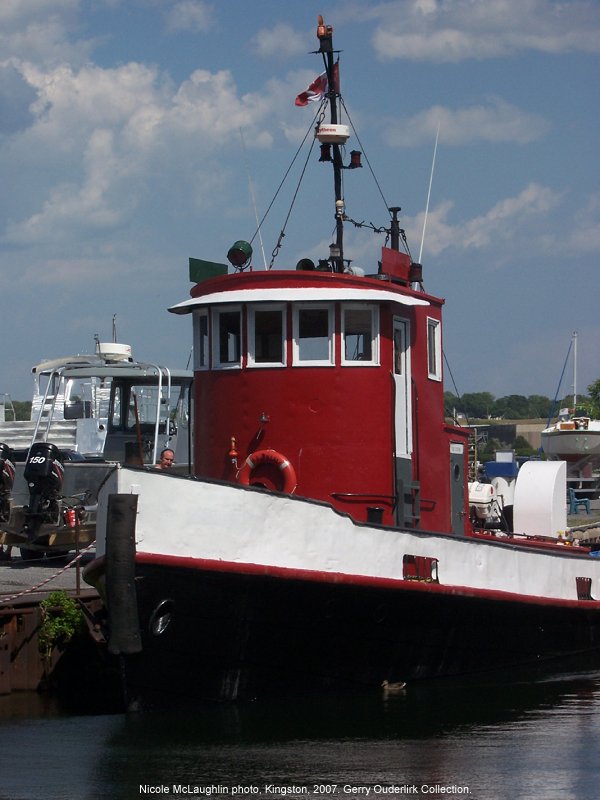 From Scrutonmarine.com Oct. 2, 2007
source: http://www.scrutonmarine.com/T2170.htm
| | |
| --- | --- |
| | 55' x 14.5' x 6' Steel Twin Screw Model Bow Tug Canadian Registry Built in 1942 by Russell Bros., Owen Sound, Ontario 36.65 Gross tons Welded hull – double plated at bow for ice breaking Powered by pr Cummins 200 LR (air start) engines 200 hp each. Total power 400 hp @ 1000 rpm c/w pr Twin Disc MG 200 gears 2:1 ratio Raw water cooled 6" shaft Pr 54" x 32" cast steel propellers – with heavy duty ice cages Fuel capacity 1600 gal plus (double fuel tanks) 2000 gal ballast tank in stern 4' x 6' swim platform c/w ladder – 800 lb capacity Removable diver's bench on stern deck Heavy duty towing post Electronics – Raytheon Radar – 16 mile Raytheon Chart Plotter (includes chip of Lake Ontario) VHF Marine Radio Galley - Furnace, Dickson Diesel cook stove with oven Safety Equip – 4 man inflatable life raft --EPIRB --Fire extinguishers Life rings c/w lights Anchor c/w 250' of 2" galvanized chain Price $125,000 CDN or best offer |
January 16, 2009. Tim Van Horn writes: "I'm not sure what the purpose of this tug boat ramming the same stretch of ice over and over was,
but I stood there for a half hour and they barely made a dent in the mass pile of ice on the river in Belleville.
They burned up lots of diesel though so maybe it's to stimulate the economy."
source: http://www.youtube.com/watch?v=d_9AMimmPa4
Shaun Vary comments (Nov. 13, 2017): "Adolphus Reach (near Napanee, ON).
She is owned by Harrisons now." Photos courtesy of Christopher Howitt.
taken Dec. 14, 2016

taken Nov. 3, 2017

Shaun Vary comments (Nov. 13, 2017): "I'm not sure which one of the Harrisons actually own the A. L. Killaly. She is usually tied up at the Harrison fishery dock at Cressy. She is currently registered to them under a numbered company: 1662140 Ontario Inc, 612 Cressy Bayside Road, Picton, ON."

Christopher Howitt notes (Nov. 13, 2017): "The photo from Dec/2016 was taken at the Adolphus Reach just east of Glenora Ferry after leaving the Picton Terminal. I am assuming that she is heading for winter layup. The most recent photo was taken at the work site at the Millhaven dock that is used by the Amherst Island ferry (Frontenac II). Photo below. I noticed that her Port of Registry is Brockville.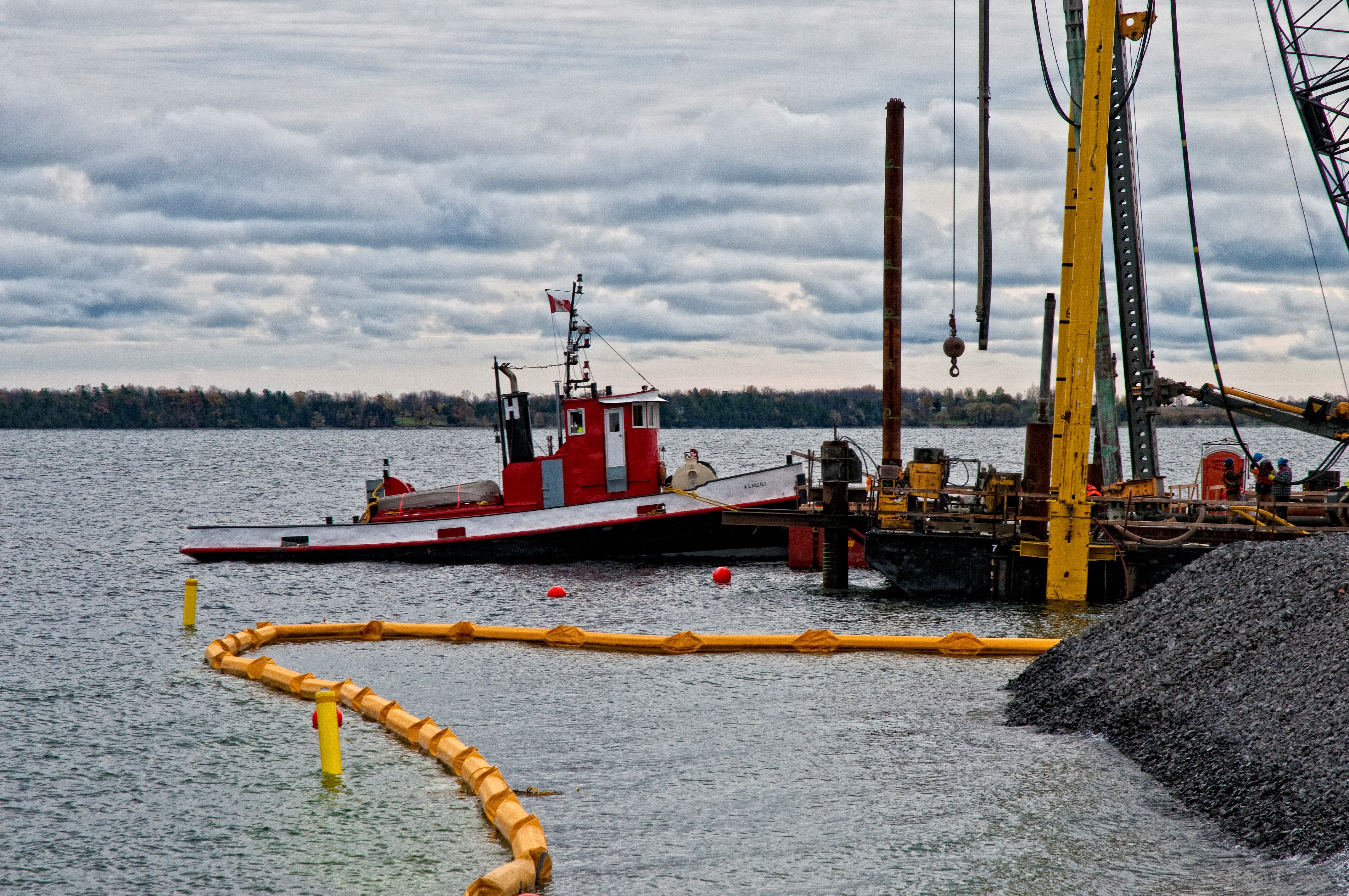 For more Russel exhibits visit Owen Sound Marine & Rail Museum 1165 1st Ave West, Owen Sound, ON N4K 4K8
(519) 371-3333

http://marinerail.com